Piping
Carefully laid out piping systems throughout the vessel
The on board piping systems work as a circulatory system, ensuring vessel operation and a safe and pleasant working- and living environment on board.
---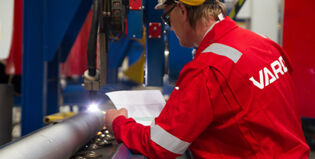 The vessel and its systems and equipment all depend on the piping systems.
Our piping systems provide flow of liquids ranging from chemicals to fresh water, and all medium and pressurized air, ranging from gases to circulation of heated air to the living areas from the central heating system.
We handle this in a safe manner, and ensure an efficient layout of the piping systems. Our team has a wide experience ensuring the safety and well-being of everyone on board and the operation of the vessel.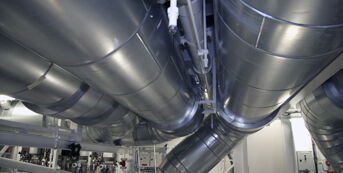 Production and installation
We put great efforts into routing the pipes throughout the vessel in the best way possible ensuring an effective layout, space saving and access for inspection.
Our main goal is achieving the highest operational standards of the vessel by ensuring long term operating time of the pipe systems. When starting a new project with a new customer we create a standard for the pipe systems based on the customer's expectations, class requirements and our competence. We thoroughly choose the right material according to the functionality of the different pipe systems and strictly follow the suppliers' standards. The pipes are then prefabricated in our workshops in Norway and Tulcea.

Prefabrication
Pipes being prefabricated in our piping factory at Vard Tulcea, one of our yards in Romania.
Technical system insulation
To ensure that systems works properly and to have a safe working- and living environment, we offer expertise in insulation of piping systems according to rules and regulations for safety, fire, condensation and protection.
Hot and cold insulation on pipe and HVAC systems that needs insulation to prevent freezing or condensation.
Capsuling of pipes to protect the systems form damages and to protect people from direct contact with the pipes.
Technical fire insulation on pipes, HVAC and electrical penetrations when the systems are crossing fire zones.

Service
By having a proactive approach to inspection, maintenance, and repair of the pipe systems, you will prevent the potential damage a pipe failure may cause.
We offer a broad line of services catering to every need of the customer both new-build and service and repair of older vessels. Through advanced testing and quality control we ensure that the systems work optimally and uncover needs for repair.
Our expertise includes inspection and consulting with visual and video camera, pressure testing, flushing and heat treatment, bolt tightening and torque control. We also conduct quality control with certification and audit management.