Electrical solutions
A trusted provider of marine electrical systems
We are globally recognized and offer innovating concepts and technologies with focus on cost-effective and sustainable solutions for optimal performance.
---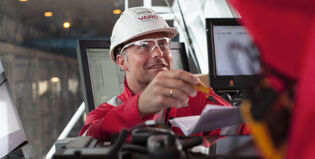 SeaQ - Developed in collaboration with our customers
The SeaQ brand line is a result from generations of shipbuilder competence and a collaboration with our customers.
We have combined technology and quality to deliver marine solutions conforming to the highest industry standards.
The SeaQ brand line encompasses design, accommodation, integrated systems, marine electronics and electrical systems.
With our SeaQ products we deliver modern and flexible bridge solutions, efficient power solutions, and automation systems for smarter and more intuitive operations.

Innovative solutions for a greener profile
We constantly seek to develop new, innovative, and flexible solutions with a green profile. Our strength lies in selecting, configuring and testing the different components to address our customer's needs.
Delivering the required functionality at the right cost, presenting performance, reliability, and safety standards, our SeaQ solutions are compliant with classification rules and international standards.

An Experienced System Integrator
At Vard Electro we take pride in our strong expertise within the area of System Integration.
Our tailored solutions encompass complete electrical system packages, including energy and automation technology, diesel-electric propulsion, electrics, and HVAC systems.
Explore

SeaQ Product Training
We offer training in all our SeaQ products to ensure optimal efficiency and safety on board your vessel.

To ensure courses of high quality, our instructors at Vard Academy has long experience from the maritime and offshore industry.
Explore

Service
The Vard Electro service team consists dedicated service personnel that is available 24/7 for assignments at shipyards and on board en-route vessels worldwide.

We offer a set of services encompassing solutions from both SeaQ and external vendors during the entire lifetime of a vessel.

Explore