Electro
Transforming maritime operations
---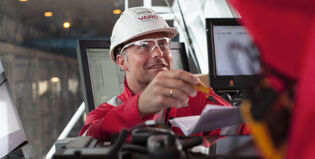 About us
Since established in 1997, Vard Electro has grown to become a globally recognized and trusted provider of marine electrical systems, providing shipowners worldwide with reliable and sustainable solutions for the most demanding conditions.
We offer innovating concepts and technologies with focus on cost-effective and sustainable solutions for performance optimalization, and constantly seek to develop new, innovative, and flexible solutions with a green profile. Our strength lies in selecting, configuring, and testing the different components to address our customer's needs.

Vard Electro offers full-scale electrical engineering design, marine procurement, and integrated solutions for vessels in the marine industry. With the ability to operate as a specialized system integrator, we can provide everything from concept design to equipment purchase to equipment integration through the warranty period.
SeaQ flexible solutions for smarter and greener operations
In 2013 we launched our very own product line, SeaQ . Developed in close collaboration with our customers, our SeaQ portfolio encompasses design, integrated systems, marine electronics, and electrical systems.
By utilizing our unique shipbuilder competence, we have created a high-quality product line that has been acknowledged by shipowners worldwide.

System integration
At Vard Electro we take pride in our unique expertise as system integrators, which comes from a long history in the maritime industry.
We know that at the core of every vessel there is a complex network of seamlessly integrated electrical systems and components ensuring safe operations at sea. By utilizing our unique competence as system integrators, it allows us to work with all established brands in the market and deliver advanced electrical systems for all types of vessels in the maritime and offshore industry.
With solid expertise in tailored solutions for diesel-electric, full electric, and hybrid vessels, our core competency lies in selecting the correct components to ensure optimal operations, and to deliver quality solutions addressing the customer's needs. Our tailored solutions include complete electrical system packages along with energy and automation technology, diesel-electric propulsion, electrics, and HVAC systems.


What we offer
DC main switchboard for full electric or hybrid vessels
Microgrid converter with shaft generator and energy storage system
Hybrid thruster drives with energy storage system
Retrofit energy storage system
Power & propulsion systems
Generator sets
Energy storage system
Main switchboard
Distribution switchboards
Motor control center & individual starters
Transformers
Drives
Electric thruster motors
Main and auxiliary thrusters
Thruster control
Joystick & DP