Our commitment
We strive to foster a sustainable and responsible business that adheres to the highest levels of safety and corporate governance, to protect the welfare of our stakeholders, including our employees, customers, shareholders, partners, suppliers and subcontractors, as well as the local communities which we operate in globally.
Vision Zero
"Vision Zero" is our company-wide effort to avoid any mishaps, for our people and the environment.
Our strict KPIs continuously measure safety across all yards and entities, and help us ensure that we are on track. Managing a successful business means never compromising your most valuable resource. VARD's Vision Zero sets the standard.
A Sea of Opportunity
So much of the sea, off shore and below water, remains unexplored. Still, we know that our ability to meet the challenges of sustainable development depends on a deeper understanding of the oceans. The greatest challenge of our time is climate change, and the greatest impact of climate change is felt at sea.
Solutions to combat the effects of these changes must also be found in the industries connected to the sea, and at VARD we are proud to have such a pivotal role in enabling the sustainable development of our planet for the people on it.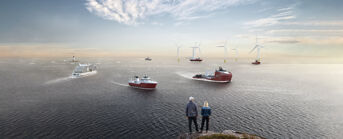 The Global Goals
The Sustainable Development Goals (SDGs), also known as the Global Goals, are a universal call to action to end poverty, protect the planet and ensure that all people enjoy peace and prosperity. For VARD and our motivated employees this invitation to tackle what is not one, but in fact, a great aggregate of challenges is energizing. We share a common goal of further developing solid sustainable solutions that bring value to our customers, employees, owners, the environment, and society as a whole.
With the United Nations (UNs) Sustainability Goals and our own values as our navigation marks, VARD is fully committed to taking an active role in preventing climate change.

We are committed
Our commitment to our customer promise "Built on trust" and our key values Salesmanship, Craftsmanship and Fellowship is the foundation for our strategies and how we drive our business.
Procedures and instructions are developed to ensure that our products meet specified requirements and customer expectations. We promote a systematic approach to ensure efficient and reliable operation, delivery precision and good and safe work conditions for all employees.
The company proactively keeps up-to-date with international best practice to ensure the safety of our global workforce. Our safety rules are continuously updated, especially in areas concerning protective equipment and the adoption of preventive behavior for workplace safety.
Certification overview
Vard Braila

ISO 9001:2015
ISO 14001:2004
OHSAS 18001

Vard Brattvaag
Vard Langsten
Vard Søviknes
Vard Tulcea

ISO 9001:2015
ISO 14001:2004
OHSAS 18001

Vard Vung Tau

ISO 9001:2015
ISO 14001:2004
OHSAS 18001
The business units mentioned below are all certified according to ISO 9001:2015
Vard Group HQ
Vard Interiors
Vard Design Liburna
Vard Electro
Vard Electro Braila
Vard Electro Canada
Vard Electro Tulcea
Vard Engineering Brevik
Vard Engineering Constanta
Vard Marine
Seaonics
Seaonics Polska
The Transparency Act
The Norwegian Transparency Act ("Act") entered into force Friday 1 July 2022. The Act is based on UN's Guiding Principles on Business and Human Rights (UNGP) and OECD's Guidelines for multinational companies.
​The aim of the Act is to ensure that large Norwegian companies are working to promote compliance with fundamental human rights and decent working conditions in the companies themselves, in their supply chains and with their business partners. Furthermore, the Act imposes an obligation for the companies to respond to requests which may come from the public on how the company is handling this risk, both in general and specifically linked to certain goods or services.
The Board of Directors in both Vard Group AS and its Norwegian subsidiaries which this law applies to, have approved and supports the establishment and implementation of policies and routines in its group companies which satisfies the requirements of the Act. A working group has been established to implement and continuously monitor and improve VARD's effort to address and reduce actual and potential negative impact on human rights and decent working conditions.
Upon written request, any person has the right to information from a company regarding how the company addresses actual and potential adverse impacts on fundamental human rights and decent working conditions that the company has either caused or contributed toward, or that are directly linked with the company's operations, products or services via the supply chain or business partners.

Please address your request to this e-mail address: mail@vard.com

Ethical guidelines and whistle blowing policy
Reporting of concerns (whistleblowing) is to report possible illegal, or suspected illegal, actions and violations of VARD's Ethical Guidelines. Examples of violations include, but are not limited to fraud and corruption, harassment and discrimination, and violations of environmental and human rights laws.
We acknowledge the risk of violations of our Ethical Guidelines and depend on the willingness of employees and external parties to raise concerns in order to uphold high ethical standards. Employees have the right and responsibility to report concerns and censurable conditions ("kritikkverdige forhold"). External parties, including employees of associated companies, are also encouraged to the same.
The whistleblower decides what information is to be provided. There is no requirement that the whistleblower is able to prove the event, act or omission. However, to allow us to perform adequate follow-up actions, the report should include as much detail as possible and, if available, supporting evidence.
Reports of concerns can be made through either
reporting to your direct leader, or
by sending a letter or
by sending an email to whistleblowing@schjodt.com.
Alternative 2 and 3 offers the whistleblower the possibility of reporting anonymously.

Corporate governance
Our corporate governance is based on our corporate values and ethical guidelines. The guidelines are applicable for all employees in VARD. It's a tool that guide us through the ethical principles we are committed to and is intended to affect behavior and the company culture within the Group. We shall treat other people with dignity and respect and maintain a good reputation as a trustworthy business partner.
The Policy is governed by the local law, regulations and rules applicable in the country in which the entity in question within VARD is located.
VARD also has a whistle-blowing policy, where employees and any other persons may, in confidence, raise concerns about possible improprieties on matters of financial reporting or other matters. The objective for such arrangement is to ensure independent investigation of such matters and for appropriate follow-up action.
HSE videos
The videos are carefully crafted to train all staff and visitors to our sites in a way that is understood and retained. We use them actively to help us reach VARD's vision zero.

Introducing Vision Zero​
Working together to keep everyone safe is our most important job. This video outlines areas of risk and appropriate safety measures. ​
Watch the video

Crane and lifting operations
What you need to consider when evaluating risk before any work involving cranes and lifting operations begins.
Watch the video

Working at heights
An outline of things to consider as you secure an area before climbing a scaffold or going through a hatch.
Watch the video

Hot work, gases and working in tanks
Always assess risk before you begin. This video lists the necessary precautions to prevent long and short-term injury.
Watch the video

Electricity precautions
When working with electricity or high voltage there are no shortcuts. Learn what it takes to exercise caution in this environment.
Watch the video

HSE summary
A summary of how to take care of each other in line with VARD's values; craftsmanship, salesmanship and fellowship.
Watch the video