Nøtte
Ensilage vessel for Måsøval Fiskeoppdrett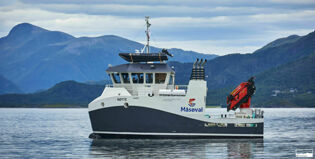 Nøtte is designed and equipped for aquaculture operations.
The ship is fitted with the following features:
• Bridge control room providing good overview of the operational area.
• IAS (Integrated Alarm and monitoring System)
• Engine configuration and control by PMS (Power Management System)
• Diesel-electric generator sets.
• Silage system with 1 off mill tank and 4 cargo tanks. Remote operated.
• Mooring and towing arrangement.
• Accommodation for crew with modern living facilities.
• Safety and lifesaving appliances to ensure safe environment for crew and visitors.
• High quality steel- and material treatment to ensure long lifetime.
• Structural integrity according to the prescribed environmental conditions at the operational site.
• Design according to NMA rules.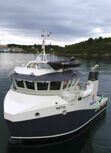 Build specifications
Måsøval Fiskeoppdrett
ship owner
Vard Aukra
outfitting yard
June 2017
delivered
Coastdesign Norway AS
ship designer
Seafood
sector
Coastern 15
design
Ensilage vessel
type of vessel
881
yard no.
Technical specifications
15 m

length overall

8 m

breadth moulded

4 pers

accommodation