12 years of seizing opportunities
We had a chat with Kaja. The project manager who comes from the capital of Norway and decided to move to Ålesund and work in VARD after finishing her education. 12 years later, she is still working in VARD where she has seized the opportunities that have come her way.
15. March 2023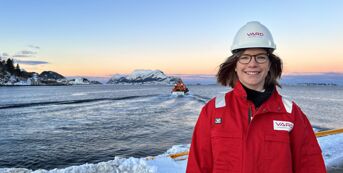 Meet Kaja
Name: Kaja Jonsvik Aarskog
Works as: Vice President Project Manager in Vard Group
Located: Ålesund, Norway
From: Oslo
Let's start at the beginning; why Ålesund and VARD?
- During my studies in Trondheim I attended various company presentations which gave us students a unique insight into various companies and different opportunities. One of the companies I met representatives from was VARD, says Kaja. This meeting was so interesting that Kaja was invited to Ålesund for a job interview. This was Kaja's first visit to the city that would turn out to be her new hometown.
The engineer with a Master's in Marine Technology and specialization in project management, started as a structural engineer in Vard Design. - I eventually experienced that my strength is seeing the totality of projects and when I got the opportunity to take the next step as project coordinator, it was an opportunity I could not say no to, says Kaja.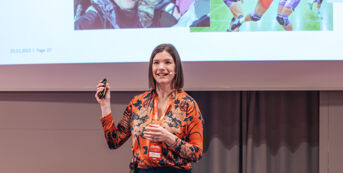 An ocean of ​​possibilities
This is precisely what Kaja highlights as one of the best things about working in VARD. - VARD is a large company full of opportunities. Not only to work with different tasks within your own department, but also the opportunity to take on new challenges in other departments and locations. Nationally and internationally. In VARD, you can develop unique competencies valuable across departments and disciplines, explains Kaja.
Kaja did not stop there. When VARD was looking for a project manager in 2017 Kaja was asked for the task and decided to seize the opportunity. – Even though at that time I had good insight into the company and ongoing projects, it was a very steep learning curve and a period where I learned a lot.
So, what does a typical day at work look like as a Project Manager in VARD?
- A typical day at work is difficult to describe because it does not exist. The days change a lot depending on the type of project I am working on. As a Project Manager, you must have a total overview of the project progress at all times and ensure close dialogue with all parties involved, both internally, with suppliers and customers. I hold project meetings, follow up on finances and planning, says Kaja and continues: - Projects that we work on span over a relatively long period of time, and it is normal that we encounter various challenges along the way that I, as project manager, have to deal with and find a solution together with the team. Good teamwork is essential.
When VARD was going through the restructuring during the oil brake and entered the cruise market, Kaja had a central role in the first cruise project that was carried out at the time. This was a period where she learned a lot. - Throughout my working career in VARD, I have had Managers who have cheered me on and encouraged me to seize the opportunities that arise. That has been important for me and my journey in the company.