Building competence for the future
VARD employees participate in pilot project for the continuing education of skilled workers.
20. May 2021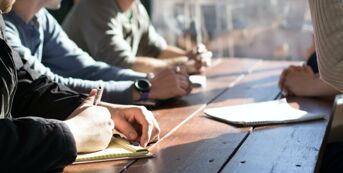 VARD was invited to take part in a pilot project for the continuing education of skilled workers in Sunnmøre. In the Autumn of 2019, 18 VARD employees took part in the 9 week study program.
In the state budget for 2019, the government allocated 30 million to the industry program for continuing education of skilled workers. 15 million of these were aimed at an industry program for the private sector. The VARD Group's employee representative, Arne Otto Rogne, is one of the driving forces behind the offer to the skilled workers in VARD.
- We announced our interest in this teaching offer early on and invested time in finding out where the need for increased competence was the greatest. We now have an offer where our skilled workers can increase their competence in communication, production, management and culture in a quality-assured study. This is good news for employees and for the industry, which is experiencing a shortage of competent labor, says Arne Otto.
The Industrial Vocational School in VARD started October 18th, 2019 with 18 participants from Vard Søviknes, Vard Brattvaag, Vard Langsten and Vard Accommodation.
The pilot project
- The offer is a collaboration between ministries and unions. When we were asked to participate in the pilot project in Sunnmøre, it was of course very interesting. The organization is changing and we see that more expertise is needed internally, says Reidun Monsholm. As responsible for competence development in VARD, she is very pleased that the company can offer continuing education to its skilled workers.
Ålesund's Vocational School is responsible for the academic content, and the main courses and sub-courses are based on the syllabus from the program "Technical and Industrial Production", which the school already offers. The study program gives 10 credits and extends over nine weeks, with one teaching day a week, and homework.
Good cooperation and good feedback
- In the first instance, all trained skilled workers at the shipyards and Vard Accommodation received the offer, as these fields were the ones that were relevant for this type of trade. Before the program started, we had an intense but good dialogue with Ålesund's Vocational School to ensure the education was adapted to our needs. We also had several discussion rounds with VARD leaders to tailor the educational offer, Monsholm says.
She is very happy with the result of the pilot project.
- Those who participated in the program were very active, and we received good feedback, she concludes.