Naming ceremony of new Norwegian Coast Guard vessel at Vard Langsten
The Norwegian Minister of Justice and Public Security, Emilie Enger Mehl named the Norwegian Coast Guard's new vessel KV Jan Mayen at Vard Langsten in Tomrefjord, Norway 16th November 2022.
17. November 2022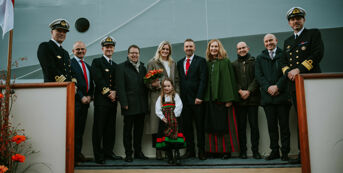 In the picture from left: Odd Magne Nilsen, Project Manager Norwegian Defence Materiel Agency, Roar Gjerde, Project Manager VARD, Oliver Berdal, Director, Norwegian Coast Guard, Bjørn Arild Gram, Minister of Defence, Godmother Emilie Enger Mehl, Minister of Justice and Public Security, Ronny Opsjøn Langset, Yard Director Vard Langsten, Gro Jære, Director Norwegian Defence Materiel Agency, Alberto Maestrini, CEO VARD, Fredrik Mordal Hessen, General Manager, Offshore and Specialized Vessels VARD and Rune Andersen, Director Royal Norwegian Navy. In front: Flower girl Frøya Ræstad Tomasdottir.
-
KV Jan Mayen is the first of three new coast guard vessels that VARD is building for The Norwegian Defence Materiel Agency (NDMA). The hull is built at Vard Tulcea in Romania and outfitted and tested at Vard Langsten in Norway.
- We are very pleased to have reached this important milestone with the Naming Ceremony of our newbuild 910 which from now is called KV Jan Mayen. The project has demanded the very best from all our involved employees at our yards, specialized subsidiaries throughout VARD, and of course our suppliers. After the celebration it is back to work for the final testing and verification before delivery to our client, says Yard Director Ronny O. Langset.
KV Jan Mayen will secure Norway's interests in the northern regions. The new coastguard vessel will strengthen Norway's operational capability throughout Norway's area of ​​interest.
The number of Norwegian suppliers to the KV Jan Mayen class is large and contributes to further developing national competence and capacity within the maritime industry. Through good cooperation with Vard Langsten, the project has used Norwegian expertise and experience to combine the best of Norwegian and international parties and suppliers to build the vessel.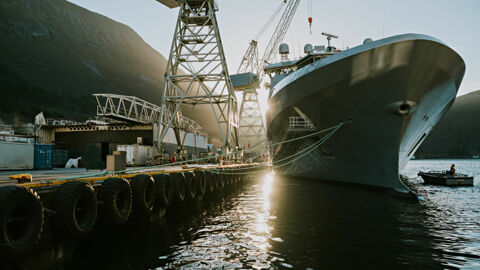 KV Jan Mayen is 136.4 meters long and 22 meters wide and has very good seakeeping capabilities so that the vessel can operate in rough weather. The vessel has a helideck and hangar, cabin capacity for 100 people and can operate at sea for eight weeks without additional fuel and provisions.
The new tailor-made vessel is developed for worldwide operations in all weather and sea conditions, both inshore and offshore. Specially designed to withstand operations in demanding arctic areas, the new coast guard vessels have ice-strengthened hull and ice-class notation and built according to the latest requirements for such specialized vessels.
The three new coastguard vessels KV Jan Mayen, KV Hopen and KV Bjørnøya are one of the largest defense acquisitions in the maritime sector in Norway. The vessels will replace the Norwegian Defense Force's three vessels in the "Nordkapp" class, built in the 1980s and soon to be retired after more than 40 years in faithful service for the Armed Forces.
Facts
The main contract to build three helicopter-carrying and ice-reinforced vessels between the NDMA and VARD was signed on 25 June 2018. The vessels will solve imposed tasks throughout Norway's area of interest, including Arctic waters. Strict requirements are set for the vessels' seaworthy properties, strength, stability, helicopter availability, sensors and communication and control capacity.
The construction of the hull of KV Jan Mayen started at Vard Tulcea in Romania in 2020. In September 2021, the hull arrived at Vard Langsten shipyard in Tomrefjord. Since then, the vessel has undergone extensive outfitting, testing and commissioning. According to the plan, KV Jan Mayen will be formally handed over from VARD to the Norwegian Defence Materiel Agency and the Armed Forces just after the turn of the year.
The other two coast guard vessels, KV Bjørnøya and KV Hopen, are scheduled to be delivered in 2023 and 2024.