Opportunities in VARD
During the holidays, several students have had summer internships – summerships, in VARD. Meet two of them.
17. August 2023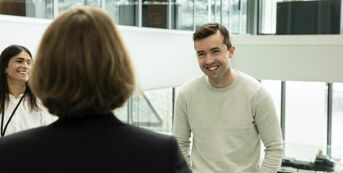 Summerships
Internships is part of our constant work to recruit new talents and competencies to VARD. We therefore offer several internship opportunities in collaboration with educational institutions.
Victoria Omholt just finished her bachelor's degree in Mechanical Engineering at NTNU in Ålesund and Jonas Viddal is starting his 5. year in his Master in Yacht design at The University in Genoa.
Victoria has been a summership at Vard Design & Engineering and Jonas has been located at Vard Design - and it is not their first time as interns in VARD, says Victoria:
- I was in the same department last summer. This work experience gave me the opportunity to attend an optional study point giving subject called Practice, during the autumn semester. In this study you are working in a company once a week. This also led to me writing my bachelor in collaboration with VARD this spring, and now I am back in a summership in the same department.
- This is a golden opportunity to get experience and to get inside a company.


Broaden insight
Jonas has got much of the same experience:
- Last summer I was an intern in the Structural Design department. I wanted to come back this year to try a different department to broaden my insight and to easier understand the coherence between the two.
They are both very happy with the tasks they have been given and talks about a good reception in the departments where they feel as a part of the team, being given responsibilities and tasks that are challenging and developing.
- I knew nothing about shipbuilding before I started, but I can say I know that now, smiles Victoria.
She wanted a relevant internship within Mechanical Engineering and got interested in VARD because we are a big part of the maritime industry.
Jonas chose VARD because of his experience with us last year.
- VARD offers a lot of exciting opportunities in different disciplines and in a summership in the company you get work experience, knowledge, and a network for the future.


Both recommend VARD as a good company for students that are looking for internships. And when we ask if they would apply for a steady position in VARD, the answer is loud and clear:
- Definitely! 😊
To all our summerships
Good luck with your studies and welcome back!

Remember to follow our VARD career center on LinkedIn to see more opportunities in VARD.