State-of-the-art trawler for Havfisk
Delivered to Havfisk January 2020, Kongsfjord is a single-screw driven stern trawler with good sea keeping qualities, outfitted for semi-pelagic and bottom-trawling operations year round and with processing and cargo facilities for the catch.
17. October 2023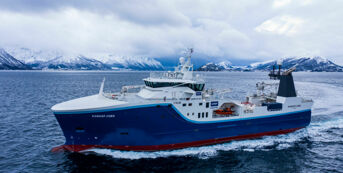 VARD 8 02 design
The vessel is of VARD 8 02 design, a state-of-the-art stern trawler intended to further enhance cost-and-production efficiency and promote environmentally friendly operations in the fisheries industry. With a high focus on quality of catch, safety for crew and sustainable operations, the vessel has the newest and most efficient technology for bringing the catch ashore with minimum environmental footprint. The vessel has a high ice classified hull, Silent F compliance, efficient engines and deck equipment, and modern living quarters for the crew.
The trawler features an advanced fish factory, two separate cargo holds for refrigerated and frozen fish, and a freezing capacity of 80 tons per 24 hours.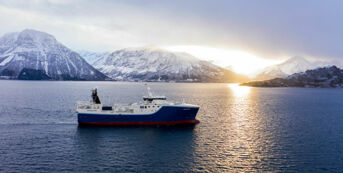 Integrated energy storage system on board
Kongsfjord is one of the first stern trawlers with an integrated energy storage system, consisting of diesel mechanical/diesel electric propulsion and batteries. The energy storage system together with VARD's SeaQ Power Management System for power optimization in all operations, ensures low emission of carbon dioxide, NOx and noise. The system will be used in all operations; allowing fuel savings in trawling, transit and in harbor when offloading.
The technologically advanced vessel features frequency controlled large components, energyefficient LED lights, and electrical winches, all connected to the SeaQ Power Management System.
Get in touch
---
Roy Arne Stavik
SVP Sales & Marketing
Vard Group AS, Headquarters
Ålesund
email hidden; JavaScript is required