The Grampian Tees has been delivered
The Grampian Tees Service Operation Vessel (SOV) for North Star has been delivered from Vard Vung Tau in Vietnam.
16. November 2023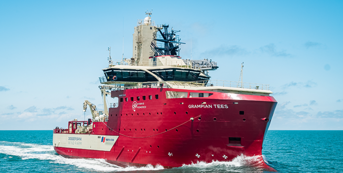 This SOV is the third of four purpose designed and built ships destined for decade-long minimum charters to support operations and maintenance (O&M) work at the Dogger Bank offshore wind farm. Once the windfarm currently under construction is fully operational, the complete windfarm will become the largest in the world, producing enough electricity to power six million British homes.
Vard 4 12 design
The vessel is based on the Vard 4 12 hull design and has been developed with North Star specifically to handle planned maintenance on the Dogger Bank A, B and C sites and tailored for effective and efficient operations in the harsh North Sea environment more than 130 kilometers off the north-east coast of England. Crew and client well-being is vital to ensure safe and efficient operations, with workflow, comfort and facilities on board a strong focus throughout the process.
Another key design element was to ensure efficient logistics. All the vessels have a height-adjustable, motion-compensated gangway with elevator system, a height-adjustable boat transfer system, as well as a 3D-compensated crane for cargo transfer.
The VARD 4 12 will be 78 metres in length with a beam of 19 metres and accommodation for 60 persons in single cabins.

SeaQ package by Vard Electro
For optimal efficiency, the vessel utilizes a cutting-edge diesel-electric propulsion system, bolstered by a battery hybrid power management and architecture. It incorporates the highly efficient Voith eVSP propulsion and a drop-down azimuth thruster for field efficiency. Additionally, the vessel benefits from the comprehensive SeaQ power package delivered by Vard Electro, providing complete control over the onboard power systems. This integration allows for reduced fuel consumption, minimized emissions, improved responsiveness, and enhanced safety.