The united department
We have met Odd-Einar Warholm, Department Manager Machinery. Having worked his whole life in VARD, starting as an apprentice. Show interest in the craftmanship is his advice.
26. April 2023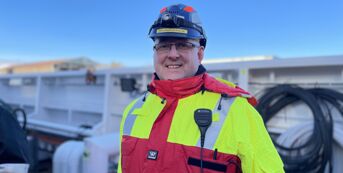 Meet Odd-Einar
Name: Odd-Einar Warholm
Works as: Department Manager Machinery
Located: Vard Søviknes, Norway

-The best with my job is the variation in tasks, Odd Einar says and smiles.
-I find it interesting and exciting that no days are alike, you always face new challenges. For me that means that there are less chances of getting bored, which I would have been if my work was characterized by routine.
Odd-Einar knows what he is talking about. He started his career in 1992 at Brattvaag skipsverft in a project position, left to serve in the military, and returned to Søviknes as an apprentice in 1994. He has worked here ever since.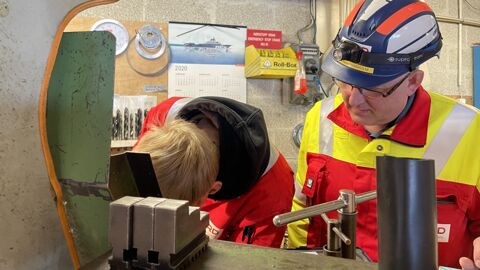 As department manager Odd-Einar does a lot of administrative work to support the leaders and skilled workers in his department. The department has 25 employees divided between commissioning – which starts and tests machinery, mechanical - that mounts the machinery, and machinery workroom - which does the cutting and milling.
-I am an office person now, he laughs.
-I miss the outdoor work a bit, though. So, I really enjoyed myself during Easter when I got to be a helping hand during the mounting of thrusters on one of our vessels. It is nice to show colleagues and apprentices that the boss can do more than bossing.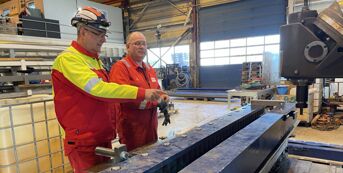 Around the world
Talking to Odd-Einar one soon realizes that this is a person who likes to challenge himself. This has given Odd-Einar and his team a lot of exciting experiences – back in the days when he was working as an industrial mechanic.
-I especially remember a project we worked on in Malta where we did some winch work for a customer. That was fun, even though the temperature was between 30 – 40 degrees Celsius and we were working up to our knees in oil. The collaboration and teamwork established between us, the others we worked with, and the crew on the ship, was really special.
Odd-Einar spent 3,5 weeks on Malta on that job, another 3 weeks he spent in Japan where a yard had bought a hull of a new design. Odd-Einar were called upon to mount thrusters on the vessel.
-The people I met were so nice and helpful! I really remember those two assignments, he says, emphasizing something that has been important for him:
-In this job you get the opportunity to travel around the world work on different projects. In addition, we are quite often in Romania because of the close cooperation including building supervision between the yards in the two countries, he adds.
His department is also the only one in VARD with a mobile machinery equipment they can bring with them were mounting, cutting, and milling is needed.

Apprentices and competence
The machinery department is also a "learning institution" welcoming apprentices. During this spring, 3 apprentices are taking their exams to get certified as skilled workers, after learning the craft in Odd-Einar's department.
-The apprentices are a part of all our processes. They are learning by doing, and by us sharing our competence.
When apprentices come to his department, Odd-Einar tells them two things: To show interest for the craftmanship and volunteer for tasks.
-The most important thing is that they ask questions to the skilled workers to make them share their knowledge. Only by showing determination, asking questions and seek knowledge, they can succeed.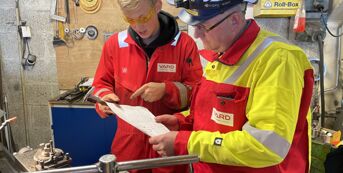 The best job
When we ask Odd-Einar what the best is with being employee in VARD, there is no hesitation before the answer:
-The teamwork feeling. The working environment with the colleagues and the way we collaborate, is the best. This makes us bond in a special way and has led to many of us, including the apprentices, spending our spear time together. That reflects on the working environment and the job we do.
-The best job ever, he smiles.