VARD and ULSTEIN in collaboration – bidding for frigate contract
Vard Group and Ulstein Verft, two of the major companies in the Norwegian maritime cluster, have teamed up to participate in the competition for the award of a strategic frame agreement for modification and maintenance of the Norwegian Armed Forces frigates in the Nansen class.
09. March 2023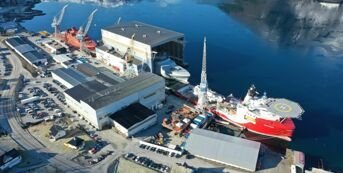 Combined strength of expertise
The frame agreement will be awarded by the Norwegian Defence Material Agency's (NDMA) in late 2023. The frame agreement will also involve requirements to provide support to allied vessels during exercises and crises.

- VARD has the experience and knowledge related to the construction and maintenance of navy vessels, while Ulstein Verft has docking facilities, and both companies have a favourable geographical location along the coast in Norway, in short distance from each other and in the vicinity of a variety of suppliers. Together, we can offer the Norwegian Armed Forces our combined strength of expertise, flexibility, workforce, and capacity, states Ronny Opsjøn Langset, Yard director at the Vard Langsten shipyard in VARD.
Maritime cluster
- There is a saying in the Norwegian maritime cluster; We cooperate when we can and compete when we must. This slogan fits this cooperation between Vard Group and Ulstein Verft perfectly, states the Managing Director at Ulstein Verft, Lars Lühr Olsen.​​​​​​​