VARD awarded ISO certification
VARD's headquarter in Norway and the Norwegian yards are awarded ISO certification 14001, 45001 and 9001.
15. November 2023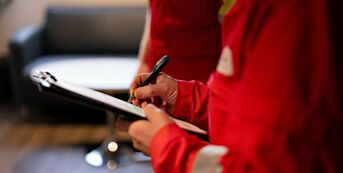 DNV, the international classification and certification society, has awarded Vard headquarter and the Norwegian yards Vard Langsten, Vard Brattvaag and Vard Søviknes with the prestigious ISO 14001 certification, recognizing the effectiveness of the company's environmental management system, and ISO 45001 for our continuous work with occupational health and safety for our workers. Simultaneously, the company successfully renewed its ISO 9001 certifications.
The certifications
Being ISO certified is a mark of good quality, and a clear indication that the company continuously makes measures to improve the business.
VARD continuously work to reduce our environmental footprint and ensure a safe workplace for all employees and partners of VARD. Implementing the principles derived from the ISO 14001 and ISO 45001 standards in our Vard Management System (VMS) will provide a systematic approach to all our operations and drive continuous improvement of our performance.
ISO 14001 (Environment): Protecting the environment, emissions to water, air and soil, use of chemicals and environmentally hazardous substances, waste and waste management, consumption.
By implementing the ISO 14001 system, VARD takes proactive measures to minimize its environmental footprint, contributing to a greener future.
In the maritime sector, environmental impacts are regulated by the International Maritime Organization (IMO). By obtaining ISO 14001 certification, VARD not only demonstrates its dedication to environmental stewardship but also aligns with these international regulations, positioning themselves as a trusted partner for environmentally responsible solutions. This achievement further solidifies VARD's position in the market and reinforces their commitment to sustainable practices.
We are proud to contribute to a greener future by offering products and services that prioritize environmental responsibility.
ISO 45001 (Occupational health and safety): Improving employee safety, reducing workplace risks and creating better, safer working conditions.
Guaranteeing employee safety and reducing workplace hazards is increasingly central to ensuring a healthy company.
ISO 45001 is an international standard for occupational health and safety (OH&S), which sets out requirements to build a sensible management system. In addition, ISO 45001 supports companies in ensuring compliance and fulfilling legal obligations.
Based on the well-established Plan-Do-Control-Act management principles, ISO 45001 requires an organization to do the following:
Identifies hazards and assesses hazards to occupational safety and health related to its activities and services.
Determines the necessary controls.
Sets clear goals and objectives to improve its OH&S performance.
ISO 9001 for quality is a certification we do annually.
The renewal of the ISO 9001 Quality Management certification further underscores Vard's commitment to maintaining the highest standards of quality management. This ensures that our products and services consistently meet or exceed customer expectations.
By combining ISO 9001 and ISO 14001, our processes and systems are aligned with both quality and environmental objectives. This holistic approach further allows the company to effectively manage operations, meet customer requirements, and minimize environmental impact.

Through our dedication to sustainability and excellence, we continue to lead the way in implementing sustainable practices, promoting environmental stewardship, and shaping a brighter, greener future.