VARD delivered Norwind Offshore's first vessel - Norwind Breeze goes straight into operation
VARD has delivered Norwind Breeze to Norwind Offshore in Ålesund. Norwind Breeze is a Service Operation Vessel (SoV) for offshore wind. The vessel was originally built as a platform supply vessel developed for the oil and gas market and has now been converted to a service operation vessel that will operate in the field of renewable energy for offshore wind farms.
30. May 2022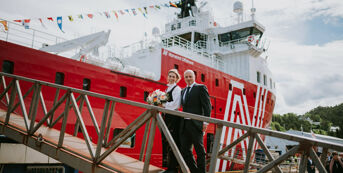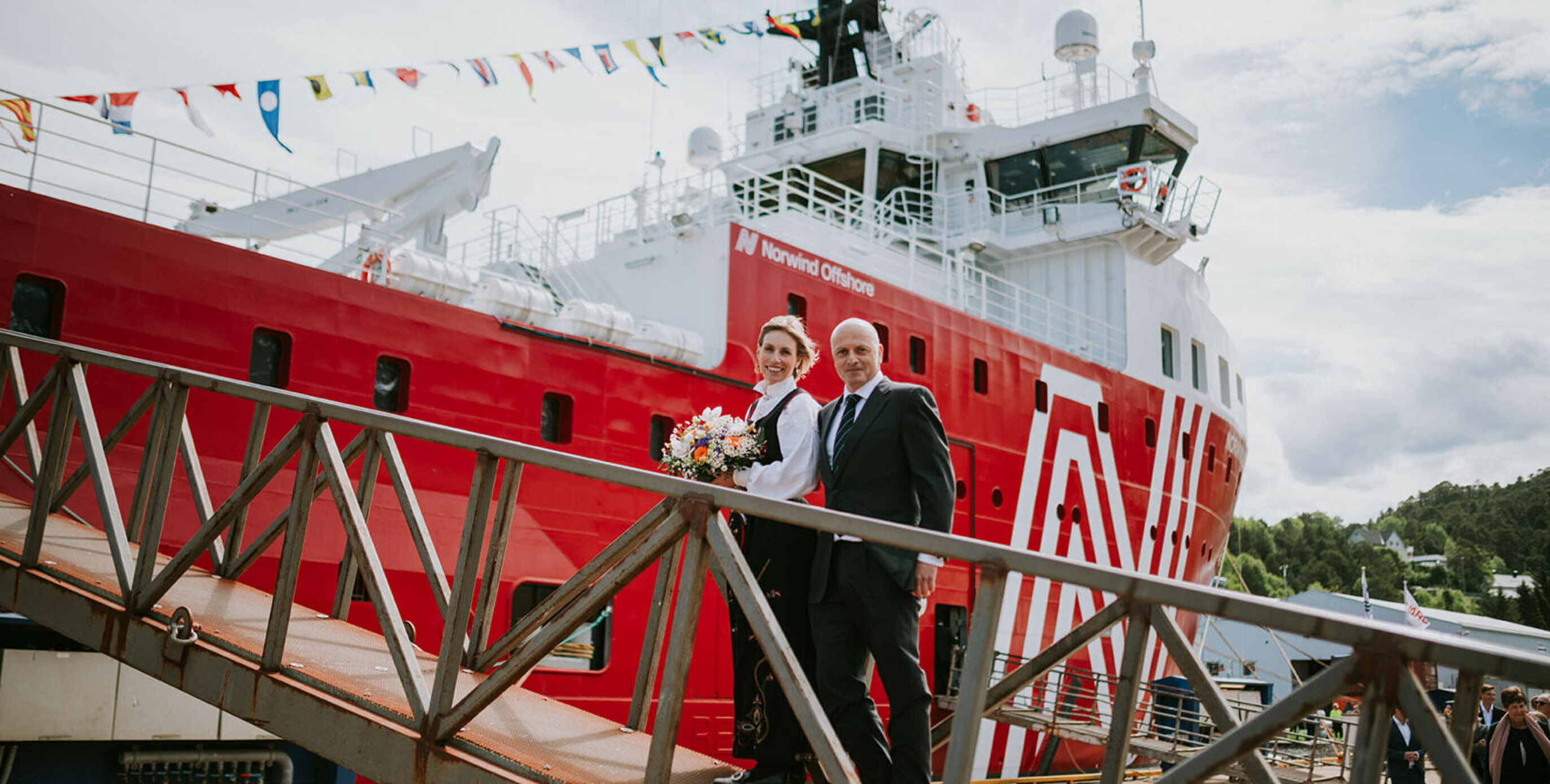 Svein Leon Aure, CEO of Norwind Offshore, says:
- Together with VARD, we have based our project on an existing vessel, and have specifically designed and converted the ship for global service and maintenance operations at offshore wind farms. This is our first vessel, and we look forward to seeing the vessel leaving the ship yard and enter operation The first contract has already been secured, and Norwind Breeze will participate in developing one of the world's largest offshore wind farms on the UK continental shelf.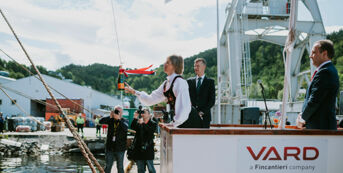 Godmother Maren Kleven Fox.
Getting Norwind Breeze delivered on time was very important for the newly established ship owner. The contract for the sale and conversion of the vessel was signed in October 2021, at the same time as a contract was signed for the design and construction of two CSOV (Commissioning Service Operations Vessels). In April 2022, an additional contract was signed for two new ships. The new CSOV's of VARD 4 19 designs will be delivered from Vard Brattvaag and Vard Vung Tau in 2023, 2024 and 2025.
General Manager of the Offshore and Specialized Vessels business area in VARD, Fredrik Mordal Hessen says:
- This project is in line with VARD's strategy and commitment to renewable energy and the green transition. We have used our core competence and long experience in design and construction of advanced vessels to meet Norwind Offshore's needs in the market. The project also demonstrates VARD's strength with its fully integrated value chain that ensures innovation power and ability to deliver on time.
The vessel has previously operated for the oil and gas market in Asia and Australia and arrived in Norway in November 2021 where the extensive rebuilding and outfitting process started.
VARD has within a short period carried out the conversion where the vessel has been equipped with, among other, a larger and modernized accommodation (60 pax), and a large battery power system to reduce emissions. An advanced temporary gangway has also been installed, which will be replaced this autumn with a new larger gangway system.
Yard director at Vard Brattvaag, Dag Vikestrand says:
- Norwind Breeze is a good example of how we can utilize existing vessels, rebuild it, bring on board new equipment and new environmentally friendly technology, and adapt it to new markets. This is circular economy and the green transition in practice.
The handover and naming ceremony of Norwind Breeze took place at Vard Brattvaag on Monday 30 May 2022.
Get in touch
---
Wilhelm Eggesbø
Senior Vice President After Sales
Vard Group AS, Headquarters
Ålesund
email hidden; JavaScript is required
Bjørn Hellebust
Sales Manager
Vard Group AS, Headquarters
Ålesund
email hidden; JavaScript is required
Ove Tennfjord
Sales Manager
Vard Group AS, Headquarters
Ålesund
email hidden; JavaScript is required