VARD has established an advisory board to support executive management
VARD, one of the major global designers and shipbuilders of specialized vessels, is pleased to announce that it has established an Advisory Board to support the executive management.
07. September 2022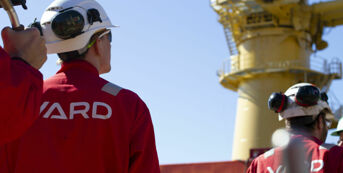 The traditional oil and gas industry has been in a significant downturn and has seen consolidation and restructuring over a longer period, including in Norway. On the back of several challenging years, the tide is turning, and VARD is geared for growth. To support the strategic growth journey, VARD has established an Advisory Board composed of independent revered experts from industry, as well as VARD/Fincantieri top executives.
We have the pleasure of announcing the following Advisory Board's independent external members:
Eldar Sætre
Chairman of VARD's Advisory Board.
Sætre is former CEO in Equinor.
Photo: Ole Jørgen Bratland.

Linda Litlekalsøy Aase
Advisory Board Member.
Aase is CEO in SalMar.
Photo: Trude Brun Wilhelmsen.

Ditlev Engel
Advisory Board Member.
CEO Energy Systems and member of the Executive Committee at DNV.
Photo: DNV.

Internal top executives of the Advisory Board are:
Pierroberto Folgiero
Group CEO and MD of Fincantieri, VARD's shareholder.

Photo: Fincantieri.

Alberto Maestrini
Chairman and CEO in VARD.
Photo: VARD.

The Advisory Board's role
The purpose of establishing the Advisory Board is to support in leading the transformation and innovation the market is seeking. The Advisory Board's role is exclusively of an advisory nature, the decision maker power and corporate responsibility remaining fully within the Board of the Company.
Alberto Maestrini is excited to form the newly established collaboration within the Advisory Board. "I highly appreciating that Sætre, Aase and Engel would like to join VARD's Advisory Board and cooperate with us. The main purpose of the Advisory Board is to challenge our corporate strategies, and to improve the quality of the decisions taken by the management. Leveraging their wide and deep knowledge of the market where VARD operates, Advisory Board will challenge the corporate strategy and therefore help the management to achieve the best solutions. I am sure the Advisory Board will contribute with its wealth of expertise and long tenured business insight to enrich and fuel VARD evaluation and brainstorming around new growth opportunities, emerging segments, investment opportunities and more."
Chairman of the Advisory Board, Eldar Sætre says:
"We are looking forward to working together with VARD. The maritime industry is in an exciting and interesting phase, facing several new opportunities within the green and technological transition. The need for new and greener energy and digitalization, creates new market drivers and business opportunities. These opportunities demand for new types of vessels and solutions. We hope our contribution will inspire and bring new ideas to the strategic plans from VARD's management team."