VARD has signed a contract for two hybrid Commissioning Service Operation Vessels
VARD and Windward Offshore, a consortium, currently under establishment and led by ASSC´s offshore arm SeaRenergy Group in Germany are pleased to announce that they have signed a contract for the design and construction for two hybrid Commissioning Service Operation Vessels (CSOV). The parties have also agreed on an option for two additional vessels.
22. October 2023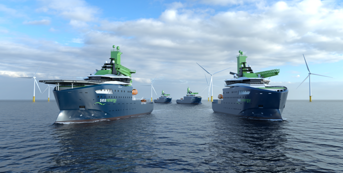 Pioneering excellence in the offshore wind sector
The partners driving Windward Offshore's innovative venture are industry leaders: SeaRenergy Offshore Holding GmbH, Blue Star Group GmbH & Cie. KG, Diana Shipping Inc., and SeraVerse GmbH. Together, they are united by a shared vision of pioneering excellence in the offshore wind sector.
This groundbreaking collaboration marks Windward Offshore's maiden project with VARD, a testament to the partners' extensive experience in diverse newbuilding projects. While they boast a robust track record in various asset classes, this endeavor signifies their initial foray into the specialized CSOV/SOV segment. These cutting-edge CSOVs are poised to support energy majors globally in constructing, commissioning, and maintaining offshore wind parks.

Partnership since 2015
SeaRenergy was established in 2010 and is the Offshore Wind Services Arm of the Rickmers family. The SeaRenergy service portfolio comprises Engineering, QHSE and Marine Services as well as Offshore Professionals, covering the whole life cycle of an offshore wind project from early planning through installation to operation, maintenance, and repair. Together with ASSC, the shipping arm of the Rickmers family, SeaRenergy takes an important step one its path to Europe's leading providers of comprehensive services to the offshore wind industry.
The partnership between VARD and SeaRenergy dates back to 2015 when they began exploring SOV projects. Over the years, VARD has garnered an impressive track record in designing and constructing CSOVs and SeaRenergy Service teams have been working on almost all sailing SOVs on numerous offshore wind projects.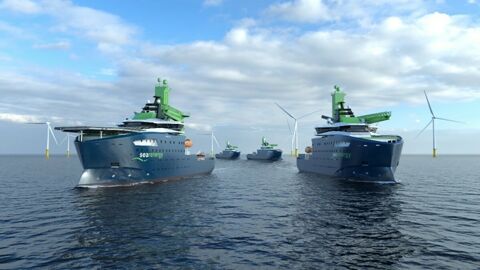 Commitment for a greener and more sustainable future
"While the changes in the political framework have fostered the entry of new developers into the offshore wind market, the investment activities in the Offshore Wind infrastructure are still by far too low. ASSC has now decided to -again- be a first mover in this field to ensure availability of attractive vessel capacity in 2025 and beyond, when the wind farm projects currently under planning and permitting will be installed and commissioned", Dr. Benjamin Vordemfelde continues.
Clasen Rickmers, owner of SeaRenergy and The Asian Spirit Steamship Company GmbH & Cie. KG says:
"I am proud to be able to manage the development of our fleet together with VARD. I am convinced of the potential of this investment and cannot emphasize enough that this strategic move enables us to provide customers and partners with state-of-the-art and future-proof offshore wind tonnage".
Mrs. Semiramis Paliou, Director and CEO of Diana Shipping Inc. stated:
"We are excited to announce our entry into a new sector of the shipping industry through a strategic partnership involving the acquisition of two CSOV vessels. We view this investment as another attestation to our commitment for a greener and more sustainable future. Together with our esteemed partners, we embark on an exciting journey that should contribute to a cleaner and more eco-friendly world."
VARD 4 19 - well received in the market
The VARD 4 19 design is a highly all-round platform for sustainable offshore windfarm support operations, focusing on onboard logistics, security, comfort, and superior operability.
The 87.5-meter vessels have a beam of 19.5 meters and will be equipped with a height-adjustable motion-compensated gangway with elevator system, and a height-adjustable boat landing system. To achieve energy-efficient and smart operations at sea, with the goal of reducing fuel consumption, the vessels will be outfitted with a comprehensive SeaQ package from Vard Electro that includes systems and solutions for Power, Control, Bridge, and Communication. The vessels are also prepared for operation on green methanol. The CSOVs will have an accommodation for 120 persons on board.
"We are proud that Windward Offshore/SeaRenergy chose VARD as their partner when deciding to enter the CSOV/SOV market. VARD enables sustainable business at sea and aims to lead the green and technological transition in maritime operations. This partnership with ASSC/SeaRenergy shows that we are on our way to achieve these goals. We welcome Windward Offshore/SeaRenergy into the offshore and specialized vessels market and thank them for the opportunity. We look forward to continuous collaboration", says Alberto Maestrini, CEO in VARD.
Smarter and more sustainable vessels are the top priority
The Group's high technology subsidiary Vard Electro is also involved in the project through deliveries of SeaQ equipment and solutions. Vard Interiors is delivering HVAC-R and interior concepts.
Runar Vågnes, Senior Vice President Sales VARD says:
Together with the SeaRenergy team VARD has tailored the new CSOVs of VARD 4 19 design to be attractive vessels for crew and clients, adding another chapter to their story in the maritime industry as they enter a new market. Jointly we are now following up on our strategies to meet the world growing energy needs in a sustainable way. Smarter and more sustainable vessels are the top priority for both our customers and VARD.
The vessels are designed by Vard Design in Ålesund Norway. The first hull will be built in one of VARD's shipyards in Romania, while the final outfitting, commissioning and delivery will be carried out by one of VARD's shipyards in Norway.
The first hybrid CSOV for Windward Offshore/SeaRenergy is scheduled for delivery in Q2 2025.
Technical spesifications
Length of 87.5 meters and beam of 19.5 meters
Height-adjustable motion-compensated gangway with elevator system
Height-adjustable boat landing system
Battery hybrid system
Prepared for operation on green methanol