VARD secures contract for the design and construction of one service operation vessel (SOV) for Ta San Shang Marine – a joint venture between MOL and TTM
VARD, one of the major global designers and shipbuilders of specialized vessels, is pleased to announce that it has secured a new contract for the design and construction of one Service Operation Vessel (SOV) for Ta San Shang Marine Co., Ltd. in Taiwan, a joint venture between Mitsui O.S.K. Lines Ltd. (MOL) and Ta Tong Marine Co., Ltd. (TTM).
17. April 2020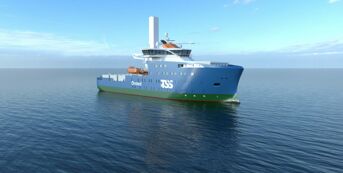 The Service Operation Vessel (SOV) will be the first of its kind in Asia, especially developed to serve maintenance support operations for Ørsted in a 15 years charter in the Greater Changhua Wind Farms in Taiwan.

The SOV is of VARD 4 19 design, developed by Vard Design in close cooperation with the customer and partners. The vessel will be built at VARD's shipyard Vard Vung Tau in Vietnam, scheduled for delivery in first half of 2022.
VARD is well known for its design and shipbuilding of highly advanced vessels for the Energy sector. Over decades, the Group has been trusted to build a broad range of state-of-the-art vessels for the oil and gas industry, research, surveillance, icebreaking, fisheries, and other marine and maritime operations. In recent years, VARD has also developed and built series of vessels for the expedition cruise market world-wide.
Mr. Erik Haakonsholm, General Manager of Offshore and Specialized vessels in VARD, says:
"We are honored to be chosen by MOL and TTM through their joint venture Ta San Shang Marine and their partners in this milestone project where we together have developed the very first tailor-made Service Operation Vessel for the Asian wind farm market. We have now taken new steps forward, and will utilize our innovative power to meet the world's changing demand for renewable energy. We look forward to cooperating with our new customer and clients in the times to come."
Mr. Yasuchika Noma, General Manager of Offshore Project Division in MOL says: "MOL is so much excited to build the very first SOV with TTM in the promising Asian market, and is looking forward to working with VARD for this project."
Mr. Hrong-Nain Lin, Chairman of Ta Tong Marine says: "TTM is glad to secure this business in our motherland. This will be a new challenge for us, but also a good chance to improve ourselves. By using VARD designed SOV which will provide a good working environment for both technicians and seafarers. We look forward to provide this new job opportunity to Taiwanese crew to work on board and next to their hometown."
Erik Haakonsholm continues: "Offshore renewables is in a phase of going from being a European focused industry to becoming a worldwide market. With this contract of the first SOV for operation in Taiwan and Asia, VARD is entering the market at a time where the initiatives around renewable energy is growing, with upcoming activity in both Asia and North America in addition to the still high activity level in Europe. VARD has developed several SOV concepts, and are excited to be a part of this great market going forward."
Newly developed for maintenance support operations
The VARD 4 19 design to be constructed and delivered for the Greater Changhua wind farms, is a newly developed ship design for the complicated and harsh environment in the Taiwan Strait. Through the development process, it has been a high focus on optimizing the hull design, safety, and comfort, and operability including a hybrid battery solution. The vessel will be the first Service Operation Vessel (SOV) to be built according to Taiwanese flag and class. The 84.4 meters vessel has a beam of 19.5 meters and will accommodate 87 persons in single cabins. Efficient logistics have been a key element in the development of the design, and the vessel has a height adjustable motion compensated gangway with elevator system, a height adjustable boat transfer system and a 3D-compensated crane for cargo transfer.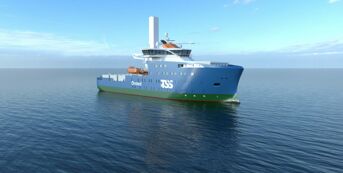 VARD 4 19 | Overall lenght: 84.4 m | Breadth: 19.5 m | Service Operation Vessel (SOV)
SeaQ® flexible solutions on board
For optimal efficiency, the hybrid vessel will be equipped with diesel-electric propulsion in combination with SeaQ Energy Storage System. Further, a fully integrated SeaQ Energy Storage Management System, SeaQ Power Management System, and SeaQ Integrated Automation System will be delivered by Vard Electro. The hybrid vessel setup will provide reductions in fuel consumption, maintenance and emissions as well as improved responsiveness, regularity and safety.
About Ta San Shang Marine Co., Ltd.
Ta San Shang Marine Co., Ltd. is a joint venture between Mitsui O.S.K. Lines Ltd (MOL) and
Ta Tong Marine Co., Ltd. (TTM).
Vard Design

Vard Design is located in Ålesund, Norway. Since being established in 2000 the company has developed and sold more than 200 ship designs. The VARD SERIES is divided into a line of strong ship designs within platform supply vessels, anchor handling tug supply vessels, offshore subsea construction vessels, offshore renewables, passenger vessels, fishing vessels, service vessels and barges for the aquaculture industry, and other specialized vessels.
VARD 4-SERIES
The VARD's 4-SERIES is developed for Offshore renewables operations, offering vessel solutions for the entire offshore renewables value chain, including offshore wind, tidal and wave power. This includes wind farm support vessels with high focus on efficient logistics, crew and technician comfort, and high operability.
Vard Vung Tau
Vard Vung Tau is an advanced and fully-integrated facility designed to undertake the entire shipbuilding process, from hull construction to final vessel outfitting. The company was established in 2007, with the yard opening for business in 2010. Since that point it has delivered a broad range of offshore and specialized vessels, with all projects completed to agreed schedules. The Vietnam-based shipyard complies to the same high, international standards as VARD's other shipbuilding facilities, with the in-house equipment, expertise and resources to handle complex project management for the most demanding vessel builds.