VARD secures contract for two CSOVs for Purus Wind
VARD is pleased to announce that we have signed a contract for the design and construction of two Commissioning Service Operation Vessels (CSOVs) for UK based Purus Wind. The agreement also has an option for two additional vessels.
16. May 2023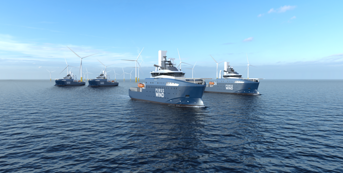 Upgraded and tailor made VARD 4 19 design
UK based offshore wind services provider Purus Wind has committed to contribute to the next generation battery hybrid service, operation, and transfer vessels to the sector. The order of the two CSOVs is part of Purus Wind's continued commitment to meet the needs of the clean energy industry as its members set out to decarbonize.
The two CSOVs are of VARD 4 19 design developed by Vard Design in Ålesund, Norway. Together with Purus Wind the design is upgraded, and tailor made to give environmental benefits with a hull design optimized for low fuel consumption and resistance, as well as high operability and comfort.
Prepared for charging at sea
The battery hybrid system prepares the vessels to run with zero emission for periods.
The design is also prepared for future operation on methanol, providing an additional sustainable option to the operation.
Tom Nevin, Business Head of Purus Wind is incredibly pleased to be building this series of vessels with VARD: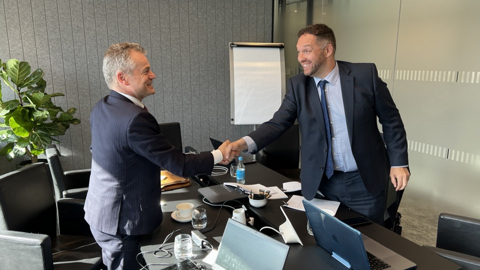 A highly versatile platform
The CSOVs are a highly versatile platform for all wind support operations, focusing on onboard logistics, comfort, large storage capacities and superior operability.
The vessels will be equipped with VARD daughter SEAONICS' Electric Controlled Motion Compensated (ECMC) crane, securing efficient handling operations for a sustainable future. This system allows for always keeping the load close to the crane tip from the deck level to the TP platform. The new and innovative crane ensures quick and safe cargo transfer.
The stepless walk-to-work-system is able to work with stepless access in a range from 15 to 30 meters above sea and is suitable for both personnel and cargo transfer.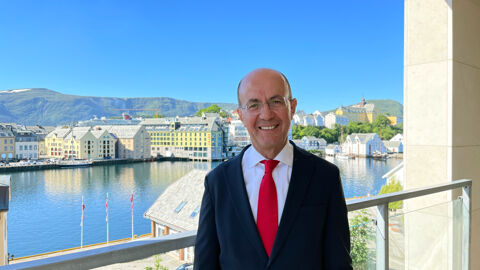 Delivered in Q2 2025 and Q2 2026
The hull of the first vessel will be built in VARD in Romania for outfitting, commissioning, and delivery from one of VARD's yards in Norway. The second vessel will be built at VARD Vung Tau in Vietnam.
The first vessel will be delivered 2. Quarter of 2025, the second in 2. Quarter of 2026.
The value of the contract is not public.

Technical information
Length of approximately 87 meters and a beam of about 19,5 meters
Stepless walk to work system capable of working from 15 to 30 meters above sea
State-of-the-art DP2 positioning and seakeeping systems
Maximum transit speed of 13 knots
Hybrid power generation, prepared for charging at sea
85 cabins for 120 persons on board
Prepared for methanol
SEAONICS' 5 tons motion compensated crane