System Integration
An experienced system integrator
At the core of every vessel, there is a complex network of seamlessly integrated electrical systems and components, making operations at sea safer, smarter, and more efficient.
---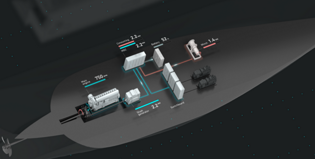 Experts within system integration
Working with all established brands in the market, we deliver advanced electrical systems for the maritime and offshore industries.
Our tailored solutions encompass complete electrical system packages, including energy and automation technology, diesel-electric propulsion, electrics, and HVAC systems.
Specialized in delivering power & propulsion systems
We have a solid expertise in tailored solutions for diesel-electric, full electric, and hybrid vessels. Our core competency lies in selecting the correct components to ensure optimal operations, and to deliver quality solutions addressing our customer's needs.

What we offer
DC main switchboard for full electric or hybrid vessels
Microgrid converter with shaft generator and energy storage system
Hybrid thruster drives with energy storage system
Retrofit energy storage system
Power & propulsion systems
Generator sets
Energy storage system
Main switchboard
Distribution switchboards
Motor control center & individual starters
Transformers
Drives
Electric thruster motors
Main and auxiliary thrusters
Thruster control
Joystick & DP
SeaQ - Developed in collaboration with our customers
The SeaQ brand line is the result from generations of shipbuilder competence and a collaboration with our customers.
We have combined technology and quality to deliver marine solutions conforming to the highest industry standards.
Explore