Interior concepts
Standardized or customized - it's your choice!
We offer a variety of different interior concepts, spanning from the more standardized concepts to the luxurious concepts where special attention is put into every detail throughout the vessel.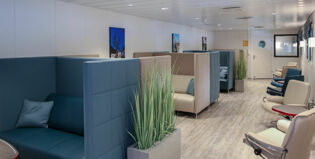 Explore our concepts
Below we present three different concepts, standardized, customized and "a step forward" which is our vision to a new future for people on board. As a customer you have the freedom to choose from our concepts and combine them as you prefer on board your vessel.
Standardized interior concept selections
Our standardized interior selections focuses on good quality and standards on furniture, materials and layouts - all to ensure a good working- and living environment on board.
Customized interior concept selections
Our customized interior selections focuses on good quality and standards on furniture, materials and layouts - all to lift the working- and living environment on board to a new level. With this concept you can chose from a wide selection of fabrics and materials and put special attention into every detail.
A step forward - our approach to a new future on board
Working areas and leisure areas are logically placed and separated from each other.

A relaxation and socializing area, placed on the vessel's upper level. Large panoramic windows offer fantastic sea views and amazing natural light. New socializing arenas in improved dayrooms creates a lively atmosphere, elevating the on board experience to another level. Furniture and details are carefully laid out to improve well-being, adding a unique character to the interior.
Optimized cabin design allows for privacy and recreation, while minimizing required deck space. A unified on board navigation system increases efficiency and safety by providing instinctive guidance.
"Four Seasons"
Our Colors Materials and Finishes (CMF) is inspired by the seasonal diversity in Norway. With this design concept, VARD offers a custom CMF selection, each of which provide a seasonally characterized mood with a distinct look and feel. The seasonal collections are achieved through different color palettes, mood lighting, and material selections on board.
Materials and furniture are also carefully selected with a focus on the environment and safety, ergonomics and durability. This approach creates a new level of consideration and well-being for the crew on board.