Wind Turbine Installation Vessel
Capacities to handle the next generation wind turbines.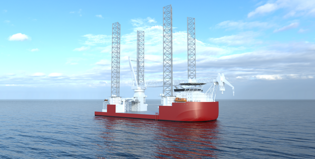 VARD 4 50 is a state of the art Wind Turbine Installation Vessel with capacities to handle the next generation wind turbines. The vessel is large enough to transport up to five 15 MW turbines including all parts.
To improve the overall logistics, an alternative logistics method have been incorporated into the design.
For projects with restricted port access or long transits from the construction port, the float over feature enables the vessel to remain in the field, receiving the turbine parts directly to each installation point.
Turbine parts will be transported on standard deck barges without any other adaption than the grillage for the equipment. The barges will be towed out to the wind park and loaded on board at the position where they will be installed.
This approach will offer improved sea state capability and operational efficiency compared to lifting from feeders.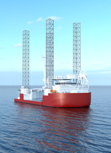 Design specifications
Vard Design
Ship Designer
VARD 4 50
Vard Design
Wind Turbine Installation Vessel
Type of Vessel
Technical specifications
12000 t

variable load

2100 t

crane capacity

65 m

water depth

4700 m²

deck area