Bourbon Arctic
Arctic Anchor Handling Tug Supply Vessel for Bourbon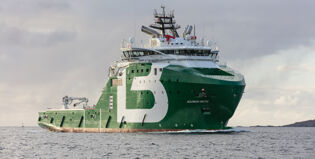 Bourbon Arctic is specially designed and equipped for advanced anchor handling operations worldwide, and has the following special features:
• A powerful design relative to its size. Maximum pull: 307t in boost mode, 193t in diesel electric mode with the use of azimuth thruster, and 175t in diesel electric mode without the use of azimuth thruster.
• Class leading winch capacities for anchor handling operations.
• Strengthened hull and enhanced winterization measures for operations in arctic areas.
• Mobilization capacities for complete rig move operations.
• Environmentally friendly CLEAN DESIGN class notation with focus on low emissions.
• Improved low resistance hull shape designed for high speed, good sea and station-keeping capabilities, excellent manoeuvrability and good stability.
• Versatility in operation provided by several class notations and high tank capacities.
• ROV hangar with launch- and recovery system for ROV.
• Large, high standard and comfortable accommodation with low noise levels.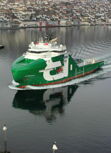 Build specifications
Bourbon
ship owner
Vard Brattvaag
outfitting yard
March 2016
delivered
Vard Design
ship designer
Energy
sector
VARD 2 12
design
Arctic Anchor Handling Tug Supply Vessel
type of vessel
802
yard no.
Technical specifications
93.6 m

length overall

84.9 m

length between p.p

24 m

breadth moulded

270 t

bollard pull

60 pers

accommodation