Far Sleipner
Offshore Subsea Construction Vessel for Farstad Shipping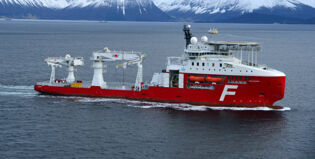 Far Sleipner is of VARD 3 07 design, with a high level of operability and innovative solutions to make it safe and environmentally friendly. It is specially designed and equipped for subsea operation duties with a high focus on good sea-keeping capabilities, excellent station keeping performances and low fuel consumption.
The vessel has an optimized hull form, and bow shape optimized for all weather conditions together with the specified propulsion configuration. Catalytic converters are installed on all main diesel generators for reducing emissions.
The vessel is fitted with:
• ROV hangar with possibility to launch ROV through moon pool and on both sides, to 3 000 m water depth
• Two AHC offshore cranes (350 t & 50 t) to 3 000 m water depth
• Large steel cargo deck with cofferdam below
• Moon pools with damping zones, according to Vard Design's R&D Sea
Keeping Capabilities Program
• SeaQ cabins, high standard accommodation with low noise levels
• Optimized hull form and bow shape
• One fast resque craft, four lifeboats
• 100% lifeboat coverage each side
• Helicopter landing platform 26.1 m, 15 t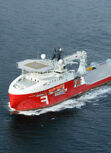 Build specifications
Farstad Shipping
ship owner
Vard Langsten
outfitting yard
March 2015
delivered
Vard Design
ship designer
Energy
sector
VARD 3 07
design
Offshore Subsea Construction Vessel
type of vessel
822
yard no.
Technical specifications
142.6 m

length overall

132.8 m

length between p.p

25 m

breadth moulded

8 m

max scantling draught

8700 t

deadweight

130 pers

accommodation