Far Sun
Platform Supply Vessel for Farstad Shipping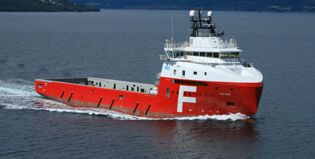 Far Sun are specially designed and equipped for platform supply operations, with a high focus on good sea-keeping capabilities, excellent station keeping performance and low fuel consumption.
The vessels are fitted with:
• High standard, low noise level accommodation. COMF V(2),C(3)
• 2 azimuth thrusters aft
• 2 tunnel thrusters fwd
• 1 swing up thruster fwd
• Dry bulk and liquid cargo system.
• Safe Hose Operating System
• Dynamic Positioning System
• Automatic sea fastening arrangement for deck cargo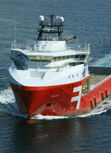 Build specifications
Farstad Shipping
ship owner
Vard Langsten
outfitting yard
July 2014
delivered
Vard Design
ship designer
Energy
sector
PSV 07
design
Platform Supply Vessel
type of vessel
815
yard no.
Technical specifications
94.7 m

length overall

84.8 m

length between p.p

21 m

breadth moulded

7 m

max scantling draught

5700 t

deadweight

28 pers

accommodation