Grampian Tyne
Service Operation Vessel (SOV) for North Star.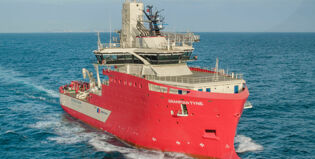 This SOV is the first of four purpose designed and built ships destined for decade-long minimum charters to support operations and maintenance (O&M) work at the Dogger Bank offshore wind farm. The vessel is of VARD 4 12 design.
The Grampian Tyne boasts some of the most innovative technologies in the maritime sector. This includes medium speed MGO power generation gensets with hybrid battery architecture in-built, coupled with Voith-Schneider eVSP propulsion package to maximise the operating envelope offshore, reduce fuel burn and improve comfort for all on board. The inclusion of a side loading logistics concept allows quayside reloading directly to the SOV covered main deck warehouse facility for both the client's cargo and ships stores safely and efficiently.
The operational planning is supported by a new best in-class decision support software and digital twin solution created with MO4 that will be deployed across the fleet to improve operational performance through predicational planning of client scheduling, metocean forecasts and collated KPI monitoring reporting.
The SOV is equipped with a bespoke new concept and designed daughter craft for effective high performance, safe and efficient offshore support of technician and cargo deployment, engineered to perform in up to 1.7m Hs sea-state.
Build specifications
North Star
ship owner
Vard Vung Tau
outfitting yard
June 2023
delivered
VARD 4 12 Service Operation Vessel
design
Energy
sector
Technical specifications
79.9 m

length overall

19 m

breadth moulded