Hermann Jr.
Workboat for Midt-Norsk Havbruk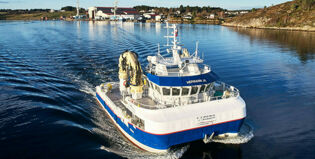 The vessel is designed as a freight and service vessel, fully equipped to operate as a service vessel in the aquaculture industry.
• Deck cranes and deck equioment for safe and effective operations.
• Ballast water system for good sea-keeping abilities.
• Bridge design providing good overview of the vessel and deck area.
• Operator chair with master remote control for cranes and equipment.
• IAS (Integrated alarm and monitoring system) for remote opeation of ship systems.
• Engine configuration and control by PMS (Power Management System).
• Diesel-electric generator sets.
• Electric tunnel thrusters.
• DP (Dynamic Positioning system)
• Accommodation for crew with modern living facilities.
Build specifications
Seafood
sector
Vard Aukra
outfitting yard
Midt-Norsk Havbruk
ship owner
June 2018
delivered
Marin Design
ship designer
MDCAT200SV
design
Workboat
type of vessel
888
yard no.
Technical specifications
20 m

length overall

19 m

length between p.p

12 m

bredth moulded

15 t

bollard pull

5 pers

accommodation