Kreutz Challenger
Diving Support and Construction Vessel for Kreuz Subsea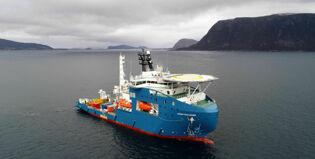 Kreutz Challenger is specially designed and equipped for diving and subsea operation duties with a high focus on good sea-keeping abilities, excellent station keeping performances and low fuel consumption. It is environmental friendly, with focus on low fuel consumption in accordance with and precautions equivalent to DNV-GL's CLEAN DESIGN requirements.
Vard Design's new optimized hull form and bow shape is incorporated in the design. With its highly optimized hull form and bow shape together with the specified propulsion configuration, the vessel will have particularly good sea- keeping abilities, station keeping performance and fuel economical operations.
The vessel is fitted with: offshore crane, dive moonpool, DSV deck house for diving, saturation and air diving arrangements, helicopter landing platform, working deck aft with possibility to launch ROV on starboard and port side and four point mooring system. The vessel is equipped for DP operations as per DNV DYNPOS-AUTR.
Build specifications
Kreuz Subsea
ship owner
Vard Søviknes
outfitting yard
November 2017
delivered
Vard Design
ship designer
Energy
sector
VARD 3 17
design
Diving Support and Construction Vessel
type of vessel
839
yard no.
Technical specifications
91.2 m

length overall

82.8 m

length between p.p

21.5 m

breadth moulded

6.6 m

max scantling draught

3000 t

deadweight

105 pers

accommodation