KV Bjørnøya
Coastal guard for the Norwegian Defence Materiel Agency (NDMA).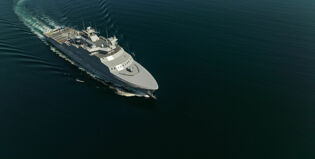 KV Jan Mayen is the second of three new Coast Guard vessels VARD is building for the The Norwegian Defense Materiel Agency (NDMA). The first vessel, KV Jan Mayen is already in operation.
The construction of the hull of KV Bjørnøya started at Vard Tulcea in Romania in April 2020. On March 10, 2022, the hull arrived at Vard Langsten shipyard in Tomrefjord. Since then, the vessel has undergone extensive outfitting, testing, and commissioning. According to plan, KV Bjørnøya is already formally handed over from VARD to the Norwegian Defence Materiel Agency and the Armed Forces.
The three new Coast Guard vessels KV Jan Mayen, KV Bjørnøya and KV Hope is built by VARD, and will replace the vessels in the Nordkapp class, built in the 1980s. The acquisition of the Coast Guard vessels is one of the largest defense procurements made in the maritime sector in Norway ever with a cost framework of NOK 7.2 billion. The Norwegian Defence Material Agency is responsible for the procurement.
The choice of technology on the new Coast Guard vessels emphasizes environmentally oriented solutions. The vessels are built in accordance with strict environmental and emission requirements, including future emission requirements that have been announced to be introduced.
The new tailor-made vessels are developed for worldwide operations in all weather and sea conditions, both inshore and offshore. Specially designed to withstand operations in demanding arctic areas, the new coast guard vessels have ice-strengthened hull and ice-class notation and built according to the latest requirements for such specialized vessels.
The vessels will operate with support from their own helicopter. Requirements are set for the vessels' ocean-going characteristics, strength, seagoing characteristics, helicopter capacity, ice handling characteristics, sensor, and communication capacity.
Build specifications
The Norwegian Defence Materiel Agency (NDMA).
ship owner
Vard Langsten
outfitting yard
Vard Tulcea
hull yard
November 2023
delivered
LMG Marin
design
Security
sector
Technical specifications
136.4 m

length overall

22 m

breadth moulded

100 pers

accommodation