Lady Anne Marie
Aquaculture Support Vessel for Aqua Shipping/Fjordlaks Aqua/Hofseth
Lady Anne Marie is designed for transportation of live fish. It has the following features:
• Two longitudinal cargo tanks for transportation of live fish.
• Each tank outfitted for both closed and open circulation of sea water.
• Cargo tanks designed for under- and overpressure operations.
• Moving bulkhead system in each cargo tank.
• Two high capacity RSW systems installed.
• Integrated water separator designed to separate fish from sea-water into fresh water, and reuse of fresh water for multiple treatments.
• Washing system to provide automatic washing of fish holds and pipes.
• A control system for all fish handling and circulation equipment.
• Crane capacities for handling of fish hoses and nets.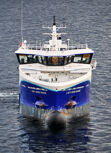 Build specifications
Aqua Shipping/Fjordlaks Aqua/Hofseth
ship owner
Vard Aukra
outfitting yard
July 2018
delivered
Vard Design
ship designer
Seafood
sector
VARD 8 50
design
Aquaculture Support Vessel
type of vessel
880
yard no.
Technical specifications
61.8 m

length overall

57.1 m

length between p.p

14 m

breadth moulded

5.3 m

max scantling draught

1780 t

deadweight

8 pers

accommodation