Marcus
Live Fish Treatment Barge for Dalseide Shipping Service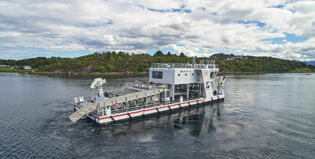 Marcus is designed and equipped for worldwide operations for treatment of live salmon, trout and other farmed species, suitable for a wide range of sites and climates, including inshore, offshore, artic and tropical areas.
The barge is fitted with the following features:
• Latest innovations in live fish handling system by Hydrolicer Production.
• Ballast water system for good sea-keeping abilites, ensuring safe operations for crew.
• Bridge control room providing good overview of the barge deck and fish farm operational area.
• IAS (Integrated Alarm and monitoring System) for remote handling of bilgeand ballast system, including engine control and live fish handling system.
• Engine configuration and control by PMS (Power Management System)
• Fire alarm system.
• Diesel-electric generator sets.
• Accommodation for crew with modern living facilities.
• Safety and lifesaving appliances to ensure safe environment for crew and visitors.
• Structural integrity according to the prescribed environmental conditions at the operational site.
• Design according to Norwegian Maritime Authority.
• Oxygen generator system with capacity of 105kg/h. System includes compressor, drier, coal filter, air tank, generators and buffer tank
• Operator chair with master remote control for cranes and A-frame.
• 2 off thrusters for sea-keeping and transit at fish farm location (cruising speed approx. 5 knots).
• Ozone disinfection system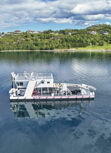 Build specifications
Dalseide Shipping Service
ship owner
Vard Aukra
outfitting yard
June 2016
delivered
Vard Design
ship designer
Seafood
sector
VARD 8 53
design
Live Fish Treatment Barge
type of vessel
846
yard no.
Technical specifications
35.4 m

length overall

12 m

breadth moulded

1.8 m

max scantling draught

4 pers

accommodation