MMA Plover
Platform Supply Vessel for Mermaid Marine Australia Limited (MMA)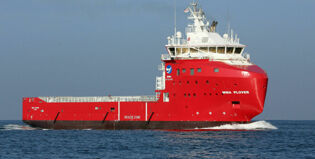 MMA Plover is specially designed and equipped for platform supply operations, with a high focus on good sea-keeping capabilities, excellent station keeping performance and low fuel consumption. The vessel is certified for dual load line: SF and IBC mode.
The vessel is fitted with
• High standard, low noise level accommodation. COMF V(3), C(3)
• 2 azimuth thrusters aft
• 3 tunnel thrusters fwd
• Dry bulk and liquid cargo system
• Dynamic Positioning System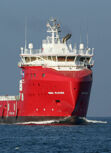 Build specifications
Energy
sector
Vard Vung Tau
outfitting yard
Mermaid Marine Australia Limited (MMA)
ship owner
November 2015
delivered
Vard Design
ship designer
VARD 1 08
design
Platform Supply Vessel
type of vessel
804
yard no.
Technical specifications
81 m

length overall

72.8 m

length between p.p

18 m

bredth moulded

6.7 m

max scantling draught

4000 t

deadweight

27 pers

accommodation