Multi Innovator
Aquaculture support vessel for FSV Group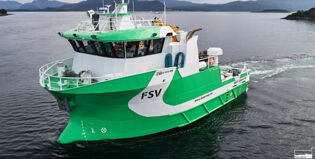 Multi Innovator is designed as a freight & service vessel for the aquaculture industry, fully equipped to operate as a service vessel in the aquaculture industry.
• Deck cranes and deck equipment for safe and effective operations.
• Ballast water system for good sea-keeping abilities.
• Bridge design providing good overview of the vessel and deck area.
• Operator chair with master remote control for cranes and deck equipment.
• IAS (Integrated Alarm and monitoring System) for remote operation of ship systems.
• Engine confiquration and control by PMS (Power Management System).
• Diesel-electric generator sets.
• Electric tunnel thrusters.
• Dynamic Positioning system.
• ROV
• Accomodation for crew with modern living facilities.
• Classed by Norwegian Maritime Authority.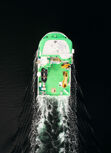 Build specifications
FSV Group
ship owner
Vard Aukra
outfitting yard
September 2018
delivered
Solstad Trading
ship designer
Seafood
sector
ST-1910-SVE
design
Aquaculture support vessel
type of vessel
900
yard no.
Technical specifications
19 m

length overall

16.9 m

length between p.p

10 m

breadth moulded

152 t

deadweight

4 pers

accommodation