Newfound Victor
Stern Trawler for Newfound Resources Limited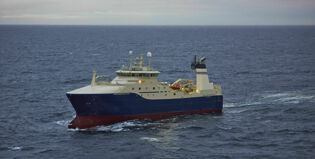 This stern trawler is designed for bottom trawling for shrimp, operating single and double trawl gears.
• A new, low resistant hull design for low fuel consumption combined with good sea keeping characteristics.
• Built according to class notation CLEAN, covering requirements for design and equipment that reduce the environmental impact from emissions to air, discharge to sea, and deliveries to shore from vessel.
• The highest attention has been paid to design an efficient trawler, focusing on onboard work efficiency combined with the importance of safe work conditions for the crew.
• A modern factory arrangement optimized for flexible shrimp handling and storage.
• Sorting in modern, easy adjustable graders.
• Freezing in horisontal plate freezer and tunnel freezers
• Fully automated palletizing system
• Automated loading/unloading pallet elevators.
• Factory solutions attend to the demand of increased production capacity as well as the importance of the highest quality of the catch.
• The accommodation- including four well sized wardrobes, two light dayrooms, a large mess room, cinema and a new designed bridge has been designed and built for low noise levels and high comfort, ensuring that the needs for optimal living facilities for the crew is well taken care of.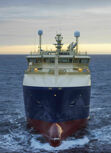 Build specifications
Newfound Resources Limited
ship owner
Vard Aukra
outfitting yard
December 2016
delivered
Rolls-Royce
ship designer
Seafood
sector
NVC 374
design
Stern Trawler
type of vessel
845
yard no.
Technical specifications
79 m

length overall

72.2 m

length between p.p

16.6 m

breadth moulded

6.9 m

max scantling draught

33 pers

accommodation