Normand Maximus
Offshore Subsea Construction Vessel for Solstad Offshore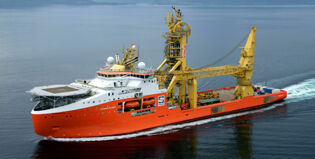 Normand Maximus is designed for world wide operations with the following special features:
• Low resistance hull lines designed for speed and low fuel consumption, good sea- and station-keeping performances, excellent manoeuvrability, high capacities and good stability.
• Environmental friendly design, and low emission.
• Large, high standard and comfortable accommodation with low noise levels.
• High focus on safety with separated machinery spaces and good operational capacity even in case of fire flooding.
• Large working deck.
• 900T and 150T SWL offshore cranes.
• 550T vertical lay system for J-lay of umbilical, flexible and rigid products.
• 2 off ROV moonpools with launch- and recovery system for ROV.
• Helicopter landing platform (helideck) and refuelling.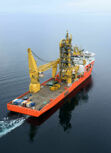 Build specifications
Solstad Offshore
ship owner
Vard Brattvaag
outfitting yard
October 2016
delivered
Vard Design
ship designer
Energy
sector
VARD 3 19
design
Offshore Subsea Construction Vessel
type of vessel
830
yard no.
Technical specifications
180 m

length overall

165.4 m

length between p.p

33 m

breadth moulded

8.6 m

max scantling draught

180 pers

accommodation