Norwind Gale
Commissioning Service Operation Vessel (CSOV) for Norwind Offshore.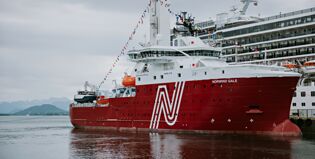 THE VESSEL is tailor made for world-wide services and maintenance operations at offshore wind farms. The VARD 4 19 design is a highly versatile platform for sustainable offshore windfarm support operations, focusing on onboard logistics, security, comfort, and superior operability. The 85-metre vessel have a beam of 19.5 meters and is equipped with a height-adjustable motion-compensated gangway with elevator system and a height-adjustable boat landing system.
The vessel, powered with four high speed generator sets arranged in father-son configuration together with a battery package, is driven by two PM Rim drive azimuth propellers, two PM Rim drive tunnel thrusters and one swing-up retractable thruster which in combination provides good station keeping performance and fuel economy.
The CSOV will have accommodation for 87 persons on board, including 60 windfarm technicians and crew up tp 27. The vessel has Vard Electro's SeaQ Integrated Bridge System installed, a bridge solution with an intuitive user interface designed with the operator in focus. Organized to achieve a clean and efficient workspace, the bridge emphasizes ease of operation, safety, and ergonomics.
For control and monitoring of the vessels' systems and overview of emissions, the vessel is equipped with Vard Electro's SeaQ Integrated Alarm System (IAS), Power Management System (PMS), and Energy Management System (EMS). The vessel is provided with an energy efficient HVAC system with 100% fresh air circulation in accommodation using Enthalpy wheel.
Build specifications
Norwind Offshore
ship owner
Vard Braila
outfitting yard
Vard Brattvaag
hull yard
June 2023
delivered
Vard Design
ship designer
VARD 4 19 SOV/CSOV
design
Commissioning Service Operation Vessel (CSOV)
type of vessel
Energy
sector
Technical specifications
88.7 m

length overall

79.2 m

length between p.p

19.5 m

breadth moulded

7.4 m

depth main deck

5.6 m

max scantling draught