Senja
Fishing Vessel for Nergård AS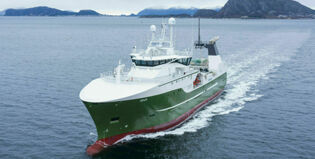 SENJA is a state-of-the-art stern trawler with excellent fuel economy, outfitted for semi-pelagic and bottom-trawling operations with gentle handling. It has advanced processing technology and high cargo capacity for fish and shrimp.
SENJA has a VARD 8 02 design and is a technologically advanced trawler with high focus on product quality, crew safety and sustainable operations. It minimizes its environmental footprint by maintaining high efficiency in all modes of operation.
SENJA is also one of the first stern trawlers outfitted with VARD Electro's SeaQ Energy Storage System. This innovative battery system can be re-charged through the permanent-magnet regenerative trawl winches. All operating in harmony with the SeaQ Power Management System for seamless integration with the hybrid diesel-electric propulsion system, which in turn minimizes fuel consumption and greenhouse gas emissions. An innovative heat-recovery system increases overall efficiency even further. With its ice-strengthened hull and propulsion system the vessel is compliant with the stringent DNV-GL Silent F notation.
To ensure a premium quality catch SENJA is outfitted with the latest in fish handling technology. Featuring live fish tanks to ensure a healthy catch before processing, in the advanced processing factory, into high-quality products. The spacious cargo space holds both refrigerated and frozen products, plus ensilage tanks for processing of biomass ashore, further maximizing resource utilization and profit.
The modern living quarters have been developed with a high focus on crew welfare with; architect-designed public spaces, day and mess rooms, a gymnasium and cabins with low noise and an appealing interior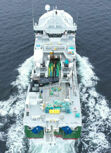 Build specifications
Nergård AS
ship owner
Vard Brattvaag
outfitting yard
February 2020
delivered
Vard Design
ship designer
Seafood
sector
VARD 8 02
design
Fishing Vessel
type of vessel
908
yard no.
Technical specifications
80.4 m

length overall

73.8 m

length between p.p

16.7 m

breadth moulded

7 m

max scantling draught

1270 t

deadweight

25 pers

accommodation