Skandi Africa
Offshore Subsea Construction Vessel for DOF
Skandi Africa is of VARD 3 12 design, with a high level of operability and innovative solutions to make it safe and environmentally friendly. It is specially designed and equipped for subsea operation duties with a high focus on good sea-keeping capabilities, excellent station keeping performances and low fuel consumption.
The vessel has an optimized hull form, and bow shape optimized for all weather conditions together with the specified propulsion configuration. Catalytic converters are installed on all main diesel generators for reducing emissions.
The vessel is fitted with:
• ROV hangar equipped with heavy duty work ROV's launched through moonpools to 4 000 m water depth
• Moonpools with damping zones, according to Vard Design's R&D sea keeping capabilities program
• AHC offshore crane 900 mt (double fall)/ 450 mt (single fall). Total wire length 4 400 m (drum capacity 6 000m)
• AHC offshore crane 150 mt to 3 000 m water depth
• Tiltable lay system tower (TLS) 650 mt - flexi pipe
• Main deck prepared for mounting product reels on deck (structural)
• Grid of T-Bars DNV approved for uplift on all main deck with wood covering between profiles
• Three azimuth thrusters of contra-rotating propeller type. Center propeller dual feed.
• High standard accommodation with low noise levels
• Operations room/ project bridge overlooking aft. deck below navigation bridge
• Optimized hull form and bow shape
• Winterized basic and ICE-1B class notations for harsh environmental requirements
• Two FRC's, four lifeboats with 100% lifeboat coverage on each side
• Helicopter landing platform 28.5 m, 15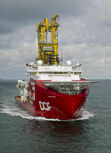 Build specifications
DOF
ship owner
Vard Søviknes
outfitting yard
March 2015
delivered
Vard Design
ship designer
Energy
sector
VARD 3 12
design
Offshore Subsea Construction Vessel
type of vessel
800
yard no.
Technical specifications
161 m

length overall

147.5 m

length between p.p

32 m

breadth moulded

9.3 m

max scantling draught

16000 t

deadweight

140 pers

accommodation