Stril Barents
Platform Supply Vessel for Simon Møkster Shipping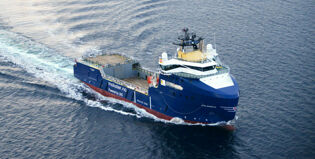 Stril Barents is specially designed and equipped for worldwide platform supply operations, with a high focus on good sea-keeping capabilities, excellent station keeping perfomance and low fuel consumption.
The vessel is fitted with the following features:
• Environmental friendly design, with low resistance hull shape designed for high speed and low fuel consumption, operates on both Marine Gas Oil and Liquefied Natural Gas (LNG)
• High comfort onboard with class notation Comf-V and good sea keeping performance
• Dynamic position system, Dynpos
• Winterized basic for operating in cold climate
• ICE-C basic ice strengthening
• Oil recovery - NOFO 2009
• NMD Rescue 240 persons
• Slipway in stern with one FRDC. The slipway is also prepared to recover life boats
• Fi-Fi operations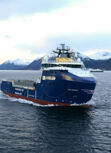 Build specifications
Simon Møkster Shipping
ship owner
Vard Aukra
outfitting yard
January 2015
delivered
Vard Design
ship designer
Energy
sector
VARD 1 06
design
Platform Supply Vessel
type of vessel
827
yard no.
Technical specifications
94.3 m

length overall

84.9 m

length between p.p

20 m

breadth moulded

6.7 m

max scantling draught

4200 t

deadweight

27 pers

accommodation