A role model to look up to
Charlotte is an inspiring role model for young women who is thinking about pursuing a career in technology.
06. March 2023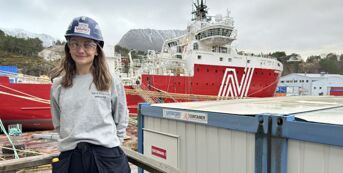 Working as an electrician in the maritime can be challenging, but this has not stopped Charlotte from pursuing a career in Vard Electro. She is a highly skilled and talented employee that has distinguished herself as a unique talent with passion for technology.
Throughout her upbringing, Charlotte's innate curiosity and eagerness to learn and understand the inner workings of various mechanisms were evident. From a young age, she would accompany her father to Rolls Royce and avidly follow the workers, asking questions to gain insight into how things were put together. This trait has become a defining aspect of her character, one that she has successfully carried into her professional career.

A challenging, but exciting industry
During her apprenticeship period, Charlotte found her interest for the maritime and decided to pursue a career in Vard Electro. Although it can be a challenging environment for young women, she was not deterred. Instead, it ignited a passion within her and she saw it as an opportunity for growth and development.

Charlotte has gained considerable experience in her two-year tenure at Vard Electro, having contributed to multiple projects. Her work has encompassed a range of responsibilities, including but not limited to, overseeing HVAC systems, lighting and control systems, engine control room, and switchboards. Though it has been demanding, the experience has proven to be rewarding and enlightening.




I get easily fascinated by technology that may seem very advanced, but when you break it down it really is very logical and intuitive. This is what I love with technology. In spite of the perceived complexity and sophistication of technology, there is always a rational explanation behind its functioning.

- Charlotte Vindsnes, Electrician in Vard Electro
Seatrials to Antarctic
In 2021, she was a member of a team that was granted the opportunity to accompany the cruise ship Viking Octantis on sea trials to the Antarctic, providing them with a unique and valuable experience. These sea trials offered an unparalleled chance to gain knowledge and insights beyond what is typically attainable. Observing the ship in action allowed for a better understanding of its systems and aided in connecting the dots.


Challenges and cultural differences
The maritime industry has evolved quite a lot over the last few years, but as a woman working with technology you still need to earn your respect from time to time. It is not given that you get the same respect as a man with the same educational background, Charlotte says. I am glad to say that for the most part of my career I have had exclusively positive experiences, except for a couple of instances. Knowing that I had a leader that I could trust and that my employer had a zero tolerance policy for discrimination, both incidents got taken care of. It is important to speak up when situations like this occurs if we want the industry to evolve. Because we cannot expect change we if keep silent.
In addition there are cultural differences when it comes working culture and women. In Norway it is expected that women are capable of performing the same work tasks as any other man, unless it is expressed that we are having difficulties. In other cultures, this is not the same. Charlotte experienced that men from other cultures tend assume that she may not be capable to complete simple tasks such as carrying a ladder or pulling cable. Although, their gestures are appreciated, it can sometimes impede work efficiency as it detracts them from their assigned responsibilities. To mitigate this, Charlotte quickly communicates that she will request assistance when necessary.
Furthermore, she has encountered situations where she had to put in twice the effort as her male colleagues to receive the same level of recognition. However, she emphasizes that this discrepancy is limited to her colleagues and not the company itself. Her experience with Vard Electro has been that the organization offers equitable career advancement opportunities, regardless of gender.

I really enjoy working in the maritime and it is important to point out that we have an amazing working environment in Vard Electro. I am part of an inclusive team that treats me as an equal and it is because of this I almost never think about the fact that I am the only woman in my team
- Charlotte Vindsnes, Electrician in Vard Electro
Encouraging more women to choose technology
Charlotte is dedicated to promoting technology and encouraging more young women to pursue a career in this field. It is an equally viable career choice for women and men alike. She has given inspiring presentations at career days for junior high students, where young girls have approached her afterward and expressed their desire to become electricians after hearing her speak. This has meant a lot to Charlotte, and she is trilled to have had such a positive impact on others.
Although the industry has made significant progress, there is still work to be done. To attract more young women to technology, she believes that there is also a need to shift societal attitudes and empower women to seize the opportunities available to them.