The humanity behind technology
The perspective from a female engineer in the field of Telecommunications and Engineering.
08. March 2023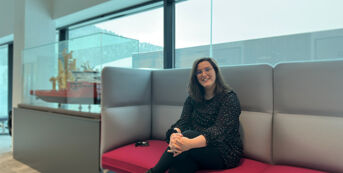 A future within technology
Clara knew from a young age that she wanted to work in technology. While exploring different university faculties at the Technical University of Madrid, she was immediately drawn to Telecommunications due to the humanity she experienced behind technology through various thesis on display, such as houses designed for disabled people, or devices designed for the blind.
Today, Clara holds a bachelor's degree in Telecommunications and Engineering and just recently joined the company as the first female engineer on the SeaQ Remote team, working with remote and autonomous technology. Before joining the Remote & Digital department, she worked for a consultancy company digitalizing the banking sector. Growing up far away from the ocean, she never imagined working for the maritime industry. She is excited about contributing to delivering sustainable solutions at sea.
Clara also gained valuable international experience during her Erasmus exchange program in Italy, where she found similarities in the work culture with her native Spain. However, she appreciates the greater emphasis on work-life balance in Norway. And the espresso machine in the canteen.
Women need to trust in them selves
During her studies, Clara noticed that there were only 15 women among the 60-70 engineering students. When she moved to Norway, she found a similar gender imbalance in the field. She encourages more women to pursue careers in technology, as it is a high-demand sector with a promising future. While she doesn't feel the need to prove herself to be more capable than her male colleagues, she does feel a sense of responsibility to set a good baseline for the future women to come. She believes that one of the many obstacles women faces is themselves, and she encourages women to trust in themselves and their abilities, seeking out experiences that align with one's values and priorities, and the importance of believing in oneself to pursue any career path.
Finally, for those wondering, Andina is not Clara's middle name, but one of her two surnames. In Spanish speakers' countries, a person's surname is a combination of the first surname of the father and the first surname of the mother. Since 2017, in Spain one can choose which surname comes first.