Best in steep terrain
Meet Anne May Slinning, legal advisor in VARD and former professional freeride skier.
06. May 2021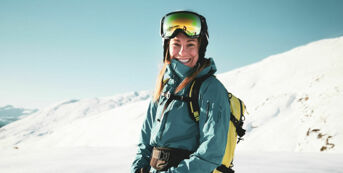 We are at VARD's head office at Skansekaia in Ålesund and have stopped by Anne May Slinning's office. After nine years in Oslo, she had the opportunity to come home, where she now combines her passion for skiing and steep mountains with her dream job as a legal advisor in VARD.
From early childhood, steep outdoor activities have had a special place in Anne May's heart. The family was active on skis, and the mountains around Ålesund were her playground every single winter growing up.
- We were an active family, often out skiing on the weekends whenever we had the chance. The joy of skiing was always cultivated, and Aalesund's Ski Club was very important to us, she says.
The interest in steep skiing increased over the years and Anne May's and her sister Kristina's competitive instinct became stronger. They became active in the alpine environment in Sunnmøre and constantly participated in competitions around the country. In addition, their teenage years were characterized by trips to Standalhytta and Strandafjellet with family and friends.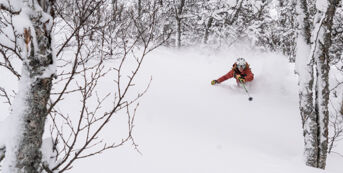 Former professional freeride skier
After leaving her alpine behind as a nineteen-year-old, she went a step further to become a professional freerider. For several years she was active abroad, where she competed and represented sponsors as an ambassador in the freestyle environment. At the same time she studied law at the University of Oslo; an opportunity that opened up thanks to their flexible curriculum.
- I was so lucky to study under the old curriculum. Therefore, I was not bound by compulsory attendance and had the opportunity to study at the same time as I lived half the year in Chamonix, smiles Anne May.
After completing her master's degree, the choice was between the skis and the law.
- It is so fun to practice freeriding and I hadn't had enough. Then an opportunity opened up for me to make a living from this full time. After graduating with a law degree, I had three fantastic years as a full-time professional freerider, continues the lawyer.
Landed the dream job
After three steep years on skis, Anne May chose to move to Norway to start her career as a lawyer. She was working for the law firm PwC when an opportunity suddenly opened up to move home to beautiful Sunnmøre.
- The dream job, without a doubt. Working as an in-house lawyer is incredibly varied and educational. VARD is one of the region's largest workplaces, and a leader in an industry that has a major impact on the development of the region and the maritime cluster. The fact that I work closely with the management and the rest of the commercial team, gives me the opportunity to gain a level of commercial understanding that would have taken me much longer to reach in a law firm, she emphasizes.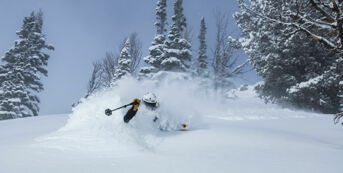 The position of legal advisor in VARD opened up a sea of​​ opportunities for the Sunnmøre native, who has both a passion for her profession and the region she now works in.
- I greatly appreciate the openness and willingness that VARD has shown by investing in a person like me, with a somewhat atypical background. It is inspiring to work with exciting and challenging work tasks in an international environment, that at the same time has roots in the local business and industry, she says and continues:
- Then of course there is also the opportunity to be surrounded by nature. It is a basic requirement that no matter where I live, I must have nature nearby. And by nature, I mean mountains.
Some of the trips are long and steep, others in the surrounding area can be done in one afternoon after work.
- Whether it is a longer summit trip during the weekend or a trip to Sukkertoppen after work does not matter so much, the most important is to spend time outside. This is definitely one of the reasons why I chose to move back home, concludes Anne May Slinning, legal advisor at VARD in Ålesund.
If you wish to see photos from some of her spectacular ski trips, you can check out her Instagram profile at instagram.com/annemayslinning