Normand Maximus – "A fantastic work platform"
For the first time in six years, Normand Maximus is at quay awaiting new assignments coming up soon. We have had a chat with the captain himself, Geir Ove Olsen, on his experience being onboard the vessel since the very beginning.
18. November 2022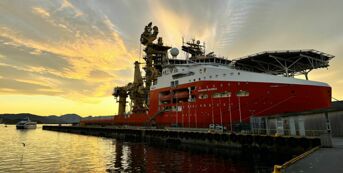 Advanced subsea construction vessel delivered in 2016
Normand Maximus is an advanced subsea construction vessel of Vard 3 19 design that was delivered from Vard Brattvaag to Solstad Offshore in October 2016. The vessel is the largest offshore vessel ever delivered from a VARD shipyard.

Since the delivery, the Multi Purpose Offshore Vessel has gone from assignment to assignment within pipe-laying and demanding construction assignments in ultra-deepwater environments. Captain Geir Ove Olsen has nothing but praise for his workplace. - This is an extremely operationally reliable vessel that has worked perfectly since day one. I have seen and been on board several different vessels, but I have never seen anything that can compare with this vessel. It`s simply great craftsmanship, says Geir Ove.
The vessel is 180 meters long and 33 meters wide. It was delivered with a POB of 180 and 20 Pullman berths have subsequently been inserted, which gives the vessel the opportunity to accommodate as many as 200 persons on board if necessary. - It is a large vessel with particularly good solutions that even with so many people on board, the vessel is perceived as spacious, says Geir Ove.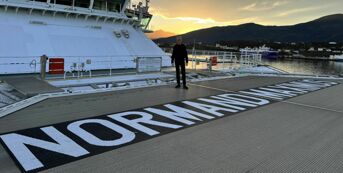 Normand Maximus has made history
In 2017, the vessel set a world record when loading 158 km of umbilical cable in Moss Norway, which was transported and installed in one go in Egypt. - It is the longest umbilical cable that has ever been laid in one go. In 2019, we loaded 178 km and thus beat our own record. This says something about the vessel`s capacity, says Geir Ove. Normand Maximus is equipped with a 900-tonne active heave compensated offshore crane and a 550-ton top tension vertical lay-system, enabling the installation of large diameter flexible pipes.

Even though the boat is at quay, several assignments await in the time ahead. - There will be several heavy, large construction jobs and a lot of flexi pipes, which is what we are equipped for. There are very few boats that can take on some of these missions that we are equipped for, concludes Geir Ove.