Passionate about the one team spirit
We have met Svein-Arne Sunde, Department Principle in Vard Design & Engineering. His interest in boats started early. The choice to work in VARD was therefore natural for Svein-Arne, who started his career in VARD at Vard Brattvaag 12 years ago.
27. June 2023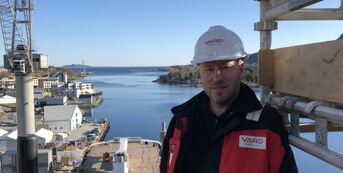 Meet Svein-Arne
Name: Svein-Arne Sunde.
Works as: Department Principle, Naval Architecture & Accommodation in Vard Design & Engineering.
Located: Røysegata, Ålesund.

- I wanted to start at one of the shipyards to learn as much as possible about how everything is connected. When you work at the shipyard, you gain unique insight and understanding of the construction process. It is extremely educational, Svein-Arne says enthusiastically.

Back in the days he started in the machinery department before joining the structural department and eventually became Technical Coordinator. Today Svein-Arne works as a Department Principle, Naval Architecture & Accommodation in Vard Design & Enigneering which means that he is involved in various phases of the shipbuilding projects.
- In the early phase, we work with engineering and drawings. We then work to put the project into practice through the construction process and we act as a support function that makes necessary clarifications. The project phases are long and parallel, and there is a high level of activity.
After 12 years in VARD, Svein-Arne has been through both ups and downs.
- The offshore crisis changed everything, and the situation led me to take on other opportunities in the company. This is one of the best things about VARD, if times become uncertain and the market is changing, new opportunities can arise in other departments and locations. It requires you to say yes, roll up your sleeves and see it as an opportunity to learn something new, says Svein-Arne that is impressed by how VARD has gotten through challenging times throughout the years

- Difficult situations demand a lot from each individual employee. One must work extra hard and put in the extra effort that is needed. This is something VARD is particularly good at. The One Team spirit is unique, he says.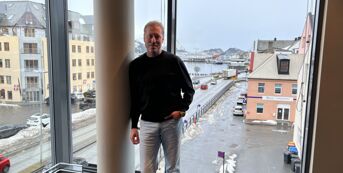 What has made you stay in VARD through all these years?
- Since I started, I have had several interesting positions in the company, and I have had the pleasure of working closely with extremely talented people. I am very proud and motivated by what we achieve together. Since day one, I have been impressed by all the expertise that resides in the company, in the shipyards, in production. It is incredible, he says.
A project Svein Arne is particularly proud to have been involved in is when VARD delivered Normand Maximus from Vard Brattvaag to Solstad Offshore in 2016. The advanced subsea construction vessel of Vard 3 19 design is the largest offshore vessel ever delivered from a VARD shipyard. - That project was amazing to be part of, he says.
Svein-Arne is silent for a few minutes before he says: - I have to say that the best thing about working in VARD is the people.
- We spend a lot of time together and I genuinely like everyone, Svein-Arne says and smiles. He has been an employee representative for many years. The fact that he is good at seeing those around him is no secret, and he is referred to by colleagues as an important person for the psychosocial environment in the department and in his projects.
If someone is sitting alone or has no one to eat lunch with, Svein-Arne does not hesitate to include and ensure that no one is left out. - It is important to create a unifying environment. It is easy to sit down and only worry about yourself, but it is super important to look up and see those around you. Get to know each other, create a safe environment and then everyone will flourish.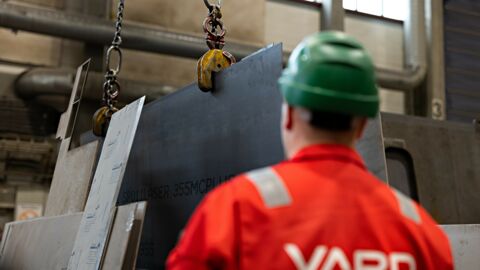 - I also appreciate the multicultural working environment in VARD.

- It is very rewarding to work in a global company with the possibility to learn from each other. See different perspectives. Once I was heading to the canteen for lunch, I sat down with a colleague from Italy whom I had not spoken to before. We sat there for over an hour exchanging thoughts and experiences. It was so interesting. New perspectives and ideas are worth their weight in gold, and an important factor for VARD's success.
Initiated VARD`s very own football practice

Svein-Arne emphasizes the importance of staying active for a good work-life balance. - A good balance is important in life. When you work long days, your head gets full. Then it is important to have something that gives new energy, Svein-Arne says. He is one of several ambassadors in VARD's Social programme, which aims to strengthen the one team spirit among the company's employees. He has initiated a weekly football training session which is open to all VARD employees. - We are a group of 10-15 colleagues who meet every Wednesday to kick some ball. It's great fun and important for building the one team spirit outside of work as well. Considering how much time you spend at work, it is essential that you enjoy the tasks you perform, but not least that you have fun with the people you work with.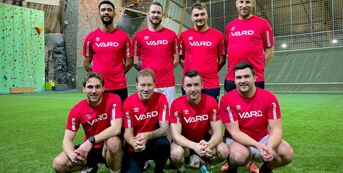 Picture taken at the weekly football practice in Ålesund, Norway,