Training
SeaQ training programs for increased efficiency
Our training programs are held by Vard Electro and have been developed to provide customers with up-to date technical expertise to improve operational efficiency at sea.
---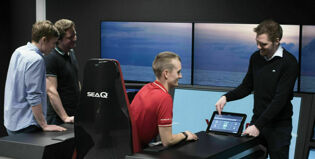 Hands-on practical training
We offer classroom training at Vard Electro's training facilities with labs and simulators, or on board the ship at our customer's premises for optimal time management.
For an effective learning environment, we combine theoretical learning with hands-on practical training. This ensures our customers to achieve new knowledge while "learning by doing".

All instructors at Vard Academy has long experience from the maritime and offshore industry, ensuring courses of high quality. As a course participant you will have the opportunity to interact directly with our engineers and product managers and gain in-depth knowledge on all aspects of our products and solutions.
What we offer
Safe learning environment
Functional description and documentation walkthrough
Simulation of FAT, HAT, and SAT tests
Can be customized for specified ship and crew
Flexible training solutions
E-learning
Virtual tours (3D scanning)
Simulators
Labs
Looking for a SeaQ course?
We offer training programs within all our SeaQ products and solutions.
Contact our Training department for further information.
Email: service.electro@vard.com
Phone: +47 400 02 959

SeaQ Power
A complete set of intelligent power system solutions and components that generate, distribute and control power on board vessels.

Explore

SeaQ Control
A set of seamlessly integrated control systems designed to improve usability and enhance vessel performance at sea.

Explore

SeaQ Bridge & Navigation
A wide selection of bridge, navigation, and communication products controlled and operated from the vessel's bridge.

Explore