Modification & Retrofit
Modification & Retrofit
We provide our customers with the tools they need to achieve a competitive advantage with a sustainable profile.
---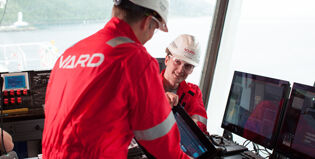 Upgrade your vessel for a prolonged lifespan
Modification and retrofit solutions are affordable ways to upgrade a vessel with new and updated technology. It prolongs the vessel's lifespan and increases operational efficiency at sea.
To meet the standards of tomorrow, our focus is on energy efficiency and user-friendly solutions that reduces maintenance cost and increases vessel safety.
At Vard Electro we have solid expertise within modifications and retrofit projects, acquired from generations of shipbuilders.
In benefit of our customers our unique know-how is fully utilized in every project. All solutions are carefully designed and carried out according to our customer's needs.


Why upgrade your vessel?
Improved system performance and reliability
Prolonged vessel lifespan
Access to new technology and software
Some of the solutions we offer
Navigation and Communication
Automation
PA & Entertainment
Power Systems
Contact us for more information
+47 400 02 959
service.electro@vard.com
Energy storage system
Shore connection
Drive system
Contact us for more information
+47 400 02 959
service.electro@vard.com
Contact us
---
Service
Vard Electro
Vard Electro AS
Tennfjord
+47 400 02 959
email hidden; JavaScript is required