Smart Cabin
An intuitive room automation solution for enhanced comfort
SeaQ Smart Cabin facilitate convenience, and security onboard your vessel and custom room automation solutions for the marine market by combining home automation innovations with maritime requirements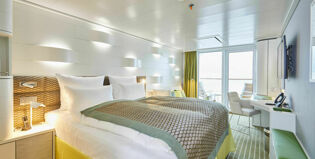 Custom room automation solutions
The SeaQ Smart Cabin gives the crew full overview of all cabins and the possibility to control each individual cabin remotely. The system can be configured with energy conservation scenarios that will automatically control the cabins based on current needs.
The local control cabinet will handle all logical processing and interfaces. All user inputs can also be performed via local switches or through the companion device running a room automation control app.
The ship network connects all cabins together and the Central HMI station will collect data from all cabins and present the overall system status to the operator.
User friendly touch screen
A 7" touch panel integrates the cabin's electronic devises and present key features for easy access.
Key Features
Make my room
Do not disturb
Door opened or closed
HVAC temp set point
Lighting status
Energy saving mode status
Energy consumption
Based on multiple sensor inputs the system can detect if there are guests present in the cabins.
Through the panel the passenger can quickly activate/deactivate preset light scenes.


SeaQ HVAC
An energy-efficient HVAC system that improves air quality and provides the optimal indoor environment for your vessel.
Explore

SeaQ Integrated Automation System
SeaQ Integrated Automation System simplifies the daily operations onboard any vessel.
Explore

System Integration
Our core competency lies in selecting the correct components to ensure optimal operations, and to deliver quality solutions addressing our customer's needs.
Explore