Integrated Automation System
A solid and reliable partner for your next project
Compliant with the marine industry major class societies, SeaQ IAS is a modern maritime automation system focusing on the user.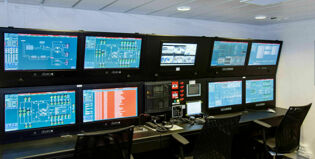 An optimized solution to meet your needs
Information is given through a clear and intuitive interface that shields the user from unwanted distractions.
As the solution is based on a modular design and gives a scalable and flexible platform, the system can be customized to most vessel types and sizes, both newbuilds and retrofits.
What you get with SeaQ IAS
Scalable and flexible platform
Marine approved HW platform
Customizable user interface
Suitable for both newbuilds and retrofits
Suitable for all types of vessels
Highly distributable IO system
Easy integration with our SeaQ product family
Alarm system (I/O)
Pump and valve control
Cargo Control
Auxiliary Machinery Control
Extended Alarm System (E0/UMS)
Tank Sounding
Logging and trending
HMI Playback Station
Reporting
Redundant HMI Servers
Multiple redundant main controllers
Ring network topology

SeaQ Power Management System
An effective and economical control systems for the vessel's power generation.
Explore

SeaQ Green Pilot
A cloud-based energy management system that supports your vessel towards sustainable future.
Explore

System Integration
Our core competency lies in selecting the correct components to ensure optimal operations, and to deliver quality solutions addressing our customer's needs.
Explore