Bridge Watch System
A full-featured, easy to customize and easy to use Bridge Watch System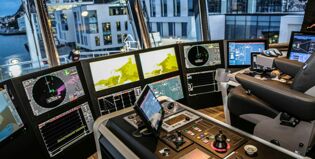 Easy to customize and easy to use
The SeaQ Bridge Watch System is a full-featured, easy to customize and easy to use Bridge Navigational Watch Alarm System.
SeaQ Bridge Watch System helps prevent marine accidents by monitoring bridge activity and automatically alerting the officer on watch, as well as backup navigators, in situations such as where the operator has fallen asleep, is otherwise incapacitated or absent.
Additionally, the system provides a means of calling for immediate assistance if required.

A stand alone product
SeaQ BWS consists of plug and play HMI and control devices, all interconnected through an automation node with I/O interfaces. It is a completely standalone product that interconnects to other bridge equipment, using standardized ways of communication, and is scalable to fit most vessel types and sizes.
The system is type approved and certified according to industry regulations and requirements, in addition to being equipped with the Wheel Mark, indicating Marine Equipment Directive conformity.
What you get with SeaQ Bridge Watch System
Easy to customize
Monitors bridge activity and prevent marine accidents
Type approval by DNV and RS
BAM compliant (pending certification)
Full-featured, scalable, easy to customize and easy to use BNWAS
Supports 2 zone split
Motion detection functionality
MED 2014/90/EU conformity