Microgrid
Enabling power systems to perform demanding operations seamlessly
SeaQ Microgrid optimizes power systems to increase efficiency and safety, cut operational costs, and decrease environmental footprint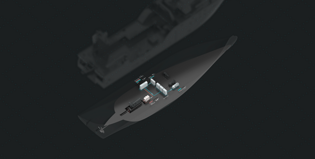 A hybrid power distribution system
SeaQ Microgrid is suitable for deployment on all types of vessels where there is a need to connect alternative energy sources or facilitate variable speed on power sources.
As a compact solution it particularly suits smaller vessels with a single cluster on the main propulsion, such as fishing vessels. It can be installed in the same room as the AC switchboard and represents a compact and cost-efficient way to gain operational efficiency. It is also suitable for bigger vessels where it is connected to the main propulsion with limited add-ons, such as ESS.

For enabling vessels to operate more efficiently while in compliance with environmental regulations, the SeaQ Microgrid supports hybrid power setups.

SeaQ Microgrid enables variable speed on PTO/PTI applications to ensure fuel efficiency, and works together perfectly with an installed ESS to store and reuse excess energy.
Connecting deck equipment to the grid in tandem with frequency converters can regenerate energy back to the battery, as well as eliminating power electronics components that reduce efficiency. It can also incorporate dedicated drives for hotel load.
Increased safety at sea
The shaft generator (PTO/PTI) operates in both directions providing stable power for the hotel load and deck machinery, or to boost propeller power when maximum propulsion is required. The shaft generator also provides the necessary redundancy for Take Me Home capability.
A particular safety benefit of SeaQ Microgrid is that it can operate in standalone mode providing energy for main propulsion if the AC switchboard is in Blackout or the main engine is out of operation.
What you get with SeaQ Microgrid
Increased safety with Take Me Home possibility
Fuel saving on PTO, no need to start Auxiliary Generator
Combine with SeaQ ESS to utilize spinning reserve, peak shaving, power boost, and store excess energy
Variable RMP on main engines provides stable power to hotel load and deck machinery
Reduced fuel consumption, running hours, and maintenance
Seamlessly mode changes from Bridge or ECR
Redundant propulsion


SeaQ Energy Storage System
Modular energy storage systems developed for the maritime and offshore industry
Explore

SeaQ Switchgear
Advance and modern switchboards specially designed for vessels in the maritime and offshore industry
Explore

SeaQ Integrated Bridge
Our future oriented bridge solutions are based on smart technology, ensuring intuitive user interfaces, and seamless integration with maritime systems.
Explore