Navigation
Easy and intuitive integration of maritime navigation systems
A modern solution that integrates maritime systems in an easy and intuitive way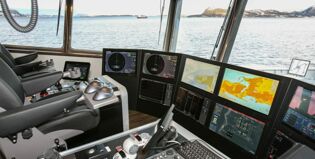 SeaQ Navigation
A scalable system integration platform that provides one control point for multiple bridge functionality. It is available through an integrated system interface conforming to harmonized look and feel standards, all backed by full-featured onboard commissioning and verification features.

Our SeaQ Navigation and Communication (NavCom) product range comprises a broad portfolio of systems based on the latest hardware and software technology, applicable to all types and sizes of vessels.

Adjusted to fit
Adjusted to fit all types of vessels within fishing, offshore, and cruise, we offer everything from highly sophisticated integrated systems to standard navigation systems, or individual products for retrofit applications

A selection of products from market leading NavCom vendors, adapted to the class requirements and functional needs of your vessel, engineered to fit the detailed layout (GA) and commissioned on site.
System functionality, including but not limited to CAM and BNWAS, is type approved and certified according to regulations and requirements as imposed by SOLAS, IMO, and DNV GL. BNWAS is equipped with the wheel mark indicating Marine Equipment Directive conformity.

What you get with SeaQ Navigation
The workspace can have multiple "user" setups for the monitors/systems, for different operator or operations.
Essential navigation and communication equipment from leading vendors integrated in one efficient workspace.
For ships with class requirements, we prepare for backup arrangements to fulfill all class rules
Highly scalable
Harmonized look and feel
Fish finding and catch control
Communication equipment
Radio control
VDR annual performance test
BAM Compliant
Type approval by DNV
Distributed IO system